I haven't posted here in a hot minute. I've been extremely busy. I've been getting ready to go to PAX, and getting a third demo together for all of my adoring fans. On top of this, I have to walk my dog every single day.
Part of the problem I've been so preoccupied with the demo is because I added a major new feature which I've had some trouble getting to be fun enough. I had some serious doubts about whether or not it would actually work, but I've managed to wrest a good deal of fun out of it, and I'm now confident enough that I'm ready to show it off.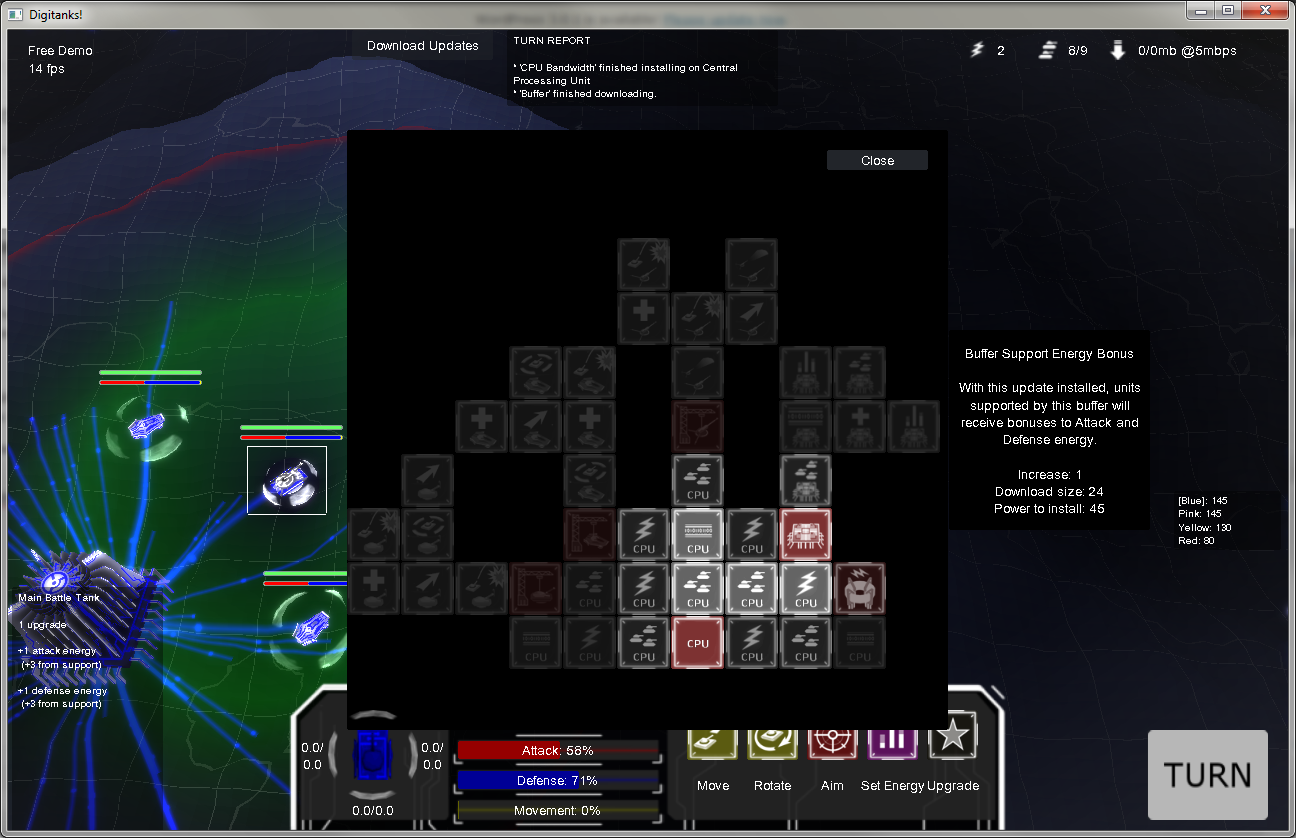 This is the "Updates Grid" It's a grid for downloading updates to your structures and units. The first technology you get is the CPU, which is there in the bottom center. From there you can download any update that's adjacent to one you already have. Once you're able to branch out enough, then you can download programs for structures, which allows you to build those structures, and updates for those programs as well.
You can also see the new user interface that we've been working on, vastly improved from the old for better readability and usability. Adam's been doing some good work on this. There are actually graphics for all the buttons now! And that "Turn" button is exactly what you think it is.
Once I get back from PAX I'll be working on putting that third demo together and releasing it to the general public. I'll also get back to writing those essays on game development that I do from time to time. By the way, if anybody is going to PAX and wants to meet up and have a drink, just drop me a line, I love to meet people.
Now you may remember that a couple of months ago I submitted Digitanks to a number of game development contests, including PAX 10, IndieCade, and a couple others. Well the last of those submission results came back today and it turns out that I didn't win a single one! I didn't really expect to win any because the game at the state of submission was rather lacking on features, but it still saddens a very small place of my heart. Oh well, there's always next year. There's another competition coming up next month that I can enter and not win, so I do look forward to that.