In this latest patch we recoded windows, rebuilt the abilities system, adjusted the button system and fixed a few bugs. Changes
- The Window System: Originally all windows in the client had their own grey borders the changed shade depending on the Z location in comparison to other windows. It looked very messy and bland, so we removed it entirely. After several edits the player can still move windows around the screen to their hearts content which also a lot smoother than before.
- The Abilities Window: As we continue to develop our UI the abilities window was the next on the list. The system is split into two sections "Memorised" and "Pages".
If the player wants to use an ability it must first be memorised. You can have a maximum of 10 abilities memorised at one time and you can change them around at any time. This is so that players "build" themselves their own personal kits which forces them to choose abilities wisely for the situation they are in. For example if raiding a water temple, fire spells aren't going to be very useful.
The "Pages" section will contain every ability the player has acquired after learning 10 abilities a new page will be created and so on every 10 spells. If you hover over the ability icon a tool tip will appear giving the full details of the ability. The names of abilities in the "Pages" section appear red when memorised otherwise they are white.
Players can drag and drop Memorised abilities into the action bar
- The Chat Box: The chat box has yet to undergo further development however as it stands we have adjusted the size so that it takes less space on the screen as it began to feel overcrowded after some time.
- The Button System: Much like the window system, all buttons had their own grey borders but these looked very bulky so they were removed. As a result buttons look much more sharp and clear.
- Action Bar Tool Tip: If the player hovers over an icon in the action bar a tool tip appears giving further details. Currently the tooltip only works for abilities but we are working to add items aswell.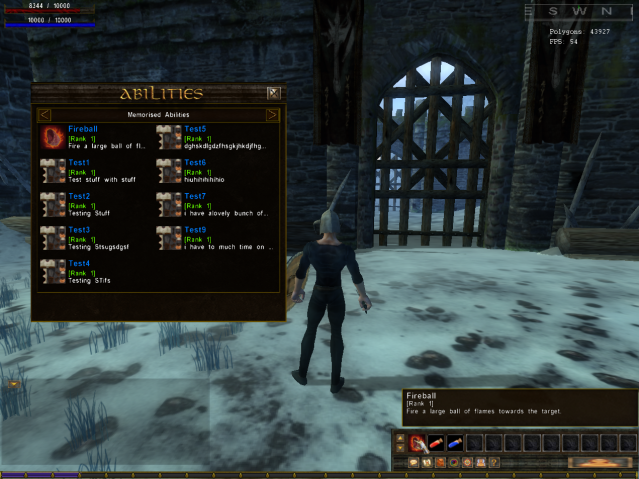 Bug Fixes
- LOD: The original formula for LOD created a bug which took a while to find where it would render the models in the scene but occasionally didn't load the collision fields as well. This has been fixed.
- Word Wrapping: Word wrapping in the tooltip windows created a copy of the name of the ability if the description had 2 or more lines. This has been fixed.