We're ready with a new patch. It's not the big one - not yet - but it will fix some of the flaws in game and adds a whole new CP map, for your first person pleasure! The flamethrower will be slightly reduced in range, the tankbuster is boosted versus ships and the hackboxes and hand models are sexier than ever!
The new map is made by our very own Sbrown. It's Control Point - with a twist. Though it starts out linear, the last two subsystems unlock simultaneously. The impact on the gameplay is unquestionable - you'd better rethink your strategies. As a side note, this was the only map the testers wanted to play during the beta tests. 'Nuff said? Here are some pictures: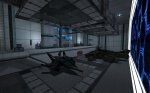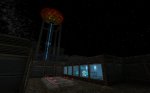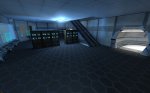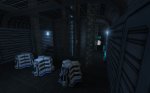 Some of you mappers out there will also squeal with glee at the new inputs that's been added. They bring a whole wad of customizability to the game and we got a lot more of that planned! So go and create some awesome custom scenarios - YOU are in control!
For those who want to make videos, a slight command change: cl_nodraw is no longer a cheat variable! In laymans that means you can get rid of the cockpit without having to enable cheats in the game! Needless to say, this will open for some incredibly awesome screenshots and movies!
The complete changelog is:
Added inputs to capital ships, corvettes, and space_dummytarget - Damage, SetTarget, ClearTarget
Added entity - space_dummytarget
Changed Tankbuster damage, does 1.5x normal damage vs ships
Changed Flamethrower range, it is 25% less
Changed cl_drawhud to no longer be a cheat var
Gunship now resupplies all weapons a player is carrying, not just the currently held weapon
Added cp_relay
Fixed client-side glitch that falsely reports flag/bomb return timer value
Sexy new hackbox and player viewmodel
We're not resting on our laurels, however. Ed, Thaldarin and NoX is working intensively on new maps. Ed is fixing up Rex' old map Vertigo, NoX is improving ctf_olympus and working on a hardcore map and Thaldarins project is top secret!
Konstantin is still hard at work with coding the AI and headprogrammingczar is working hard on some of the new features. We've got a few artists now and they're working hard with coming up with concepts for some new capships.
We've also gotten hold of a new sound tech - Spindoctor. We'll be putting him to work soon enough. Welcome aboard :)
We are still trying to fill the empty spots on our roster, however. We're looking for talentented people of the following qualifications:
2d artist:
We have quite a lot of tasks for 2d artists and noone to take them on yet. If you've got experience with doing textures, skinning or HUD work, send us an e-mail ASAP!
3d artists(modellers):
The concepts are taking shape, the animator and sound tech is standing by - we just need modellers! You need to be able to make and compile your own models from scratch, based off a concept drawing. You'll be making various props, ships and even a new weapon.
If you want to apply for one of these positions, head on over to Eternal-silence.net for more info.
That's all, folks!