Since we've came to the conclusion that development of 3.0 will take a while (it will not be released this year), it would be great if you played 2.0psi a little more before getting your hands on the next version so that you can truly feel the difference. That's why we decided that 2.0psi will be patched once more.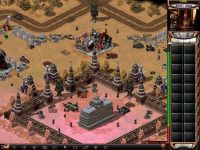 This patch fixes several critical bugs and provides some other changes you can read about in the changelog. There will be no more issues with Epsilon campaign progression or Apocalypse/Battle Fortress losing their speed.
Patch 2 can be downloaded here.
To install the patch, simply put the .xmlf file in your YR directory and activate the mod via the core launcher. Remember that you need YR patched to 1.001 and NPSE0022 patch installed before you run the mod. If you did everything properly, you should see this in your main menu's bottom-right corner.