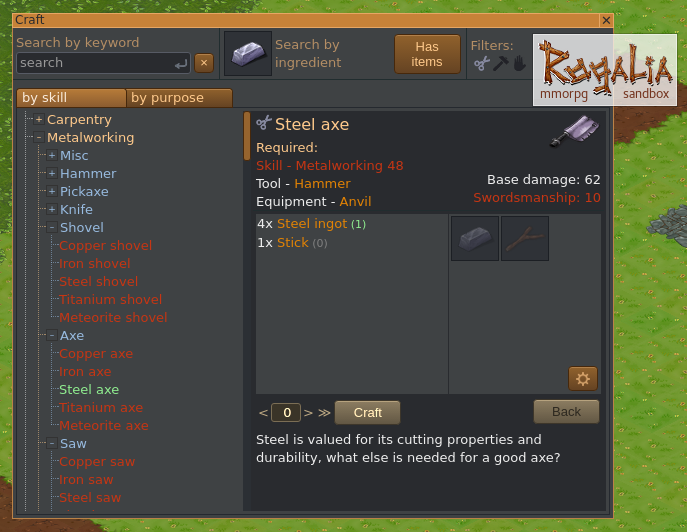 Craft Window
Craft Window fully redesigned.
Now in its top part you'll find:
- keyword-based search;
- ingredient-based search: it's a slot you can fill with any item to find a recipe that contains the same item;
- "Has items" button will show only those recipes for which you have items in your bag;
- filters: by default, all recipes will be displayed and all filters disabled. With a filter enabled, you'll see only those recipes that can be crafted, or built, or available for a skill.

Two tabs added to sort recipes, one by skill, the other by group. All recipes are initially grouped. We wish for this patch we could finish the third tab for selected recipes. We are committed to do it later.

Recipe has been redesigned, too. In the ingredient list, the figure in brackets will show the number of ingredients in your bag. You can enter a number here to indicate how many items you'd like to craft.
Where it's important to use certain higher quality items, you can use the new manual crafting button (gear-shaped). In the pop-up window, arrange ingredients in the slots and press Craft button.

The craft improvement task turned out harder to accomplish than we had expected (more than 500 recipes). We've been doing our best to avoid errors. If you face any problem or bug related to craft please inform us in this forum. Thank you.

Bloody altar
To reanimate a chicken you've been breeding so long, you should build a bloody altar, place a chicken inside (one at a time) and add Quintessence of Evil to it. Then right-click on the altar -> 'sacrfice' -> A miracle! The chicken has resurrected!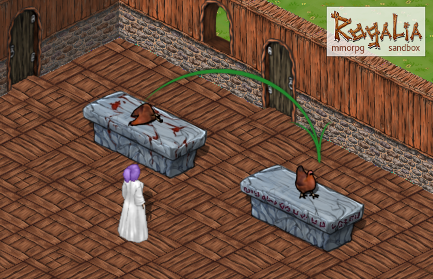 But don't forget that it was willed by the evil shaman Xirtat that throughout next week no potion will be required for sacrificial offering!

Container search
'Search' button added to the bag window title. In this window, you can now find the item you need by a keyword and narrow your search by a property.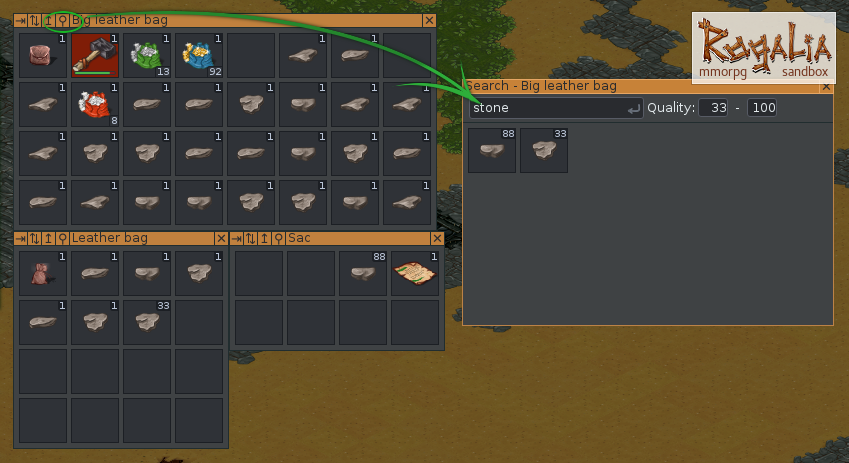 Access setting for the whole claimYou can now set an access color that will by default apply to all items within a claim. For instance, you've set the yellow color, so now all your friends marked yellow will access all the items unless such item has been assigned a different color.

Other changes
- We've added the ability to move unliftable objects. To do so, you'll need 30 strength points and a crowbar. You may move an object by one square, but the crowbar will lose its durability.
- With this ability, you can build floors under unmovable objects.
- The scroll has a stylish look now. It will appear as you place the pointer in the area that requires scrolling.
- The avatar will now show both the character's level and animals' level. It will also display the animal's gender.
- You cannot turn/rotate items in the claim which is not yours.
- Players from your black list will not be able to send you letters via in-game mail.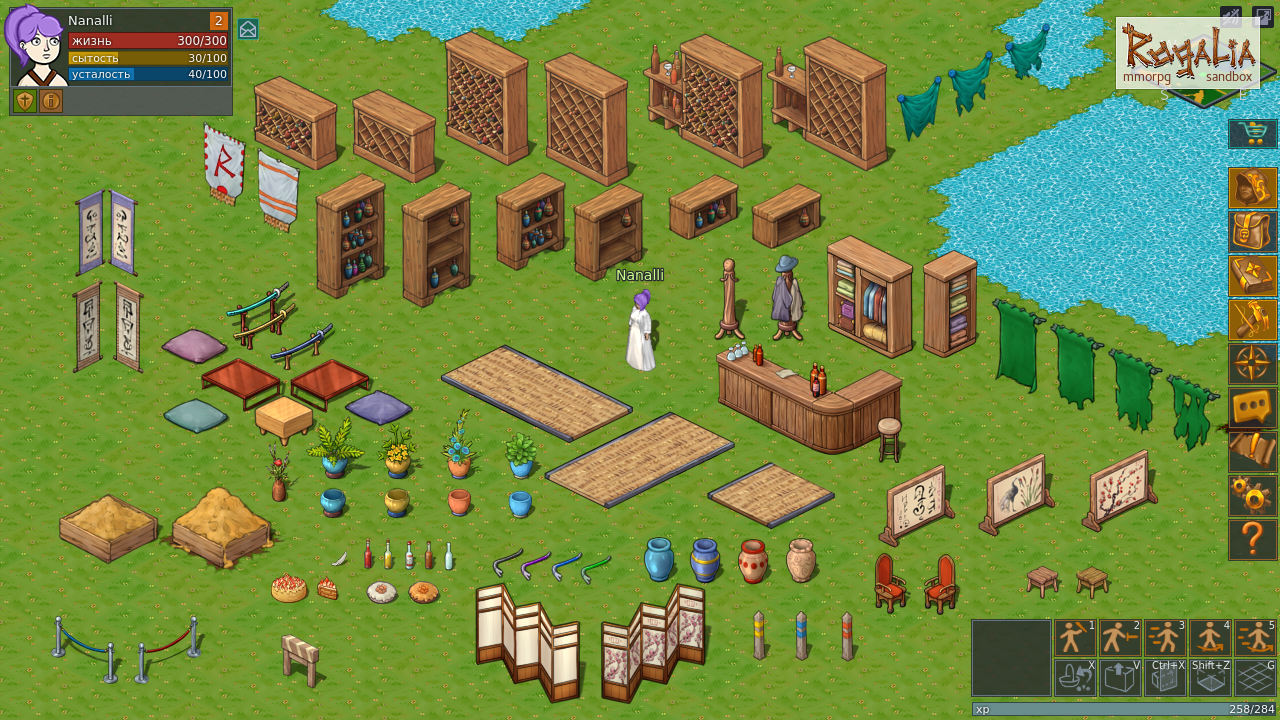 New items added
Build a real bar: bar counters of various sizes, a bar stool, wine racks of various sizes, new sprites for alcoholic drinks, a variety of canvasses to hang on the wall.
Furniture and decor: folding screens with various patterns, big Japanese style paintings, tatamis, katanas, scrolls to hang on the wall, tables, chairs, cushions, closets for clothes and armor, a hanger, cabinets for potions and tinctures, flower pots and vases (with or without flowers), limiters.
A sandbox to store sand.

A game in a game
We are planning to introduce board games for you to play with your friends right in Rogalia. This is how you can support the game development and entertain yourself and your fellows.
Random card decks are available in the shop:
- 'Newbie' set: 5 random cards;
- 'Pro' set: 7 random cards;
- 'Master' set: 9 random cards.
For the poker card deck recipe you'll need 9 cards from Six to Ace. With this card deck you can play poker (or any other card game) in the city tavern or in your claim.





P.S. We had unfortunately no chance to release the patch at the weekend, therefore the altar will function according to the simple algorithm (no potion will be required for sacrifice offering) not only this weekend, but during the next week too.