Interface
Characteristics windows readjusted. Info grouped into logical blocks.
Characteristics dependence on vitamins is vividly displayed. Zero values of vitamins are colored grey. As you start accumulating a vitamin it gets colored; connection with a characteristic is marked with an arrow.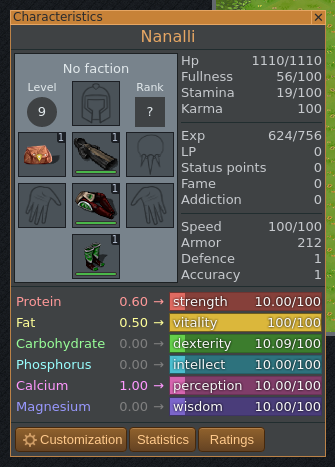 Access right settings
You will now be able to set access rights to property through color keys. You can choose from 8 colors.
By default, color keys are inactive, so all players in your friends list may access your containers and doors.
If you'd like to restrict access to a certain container or door, set any color. Then they'll be accessible to those players only who have the same active color in your friends list.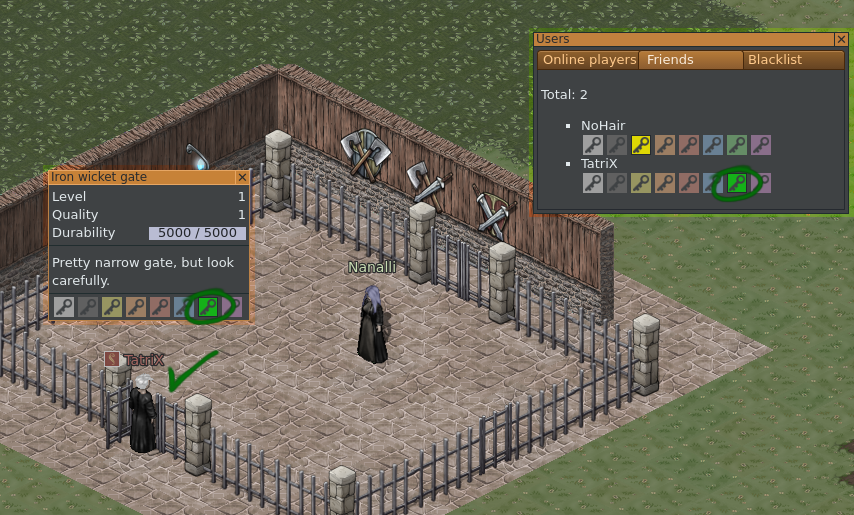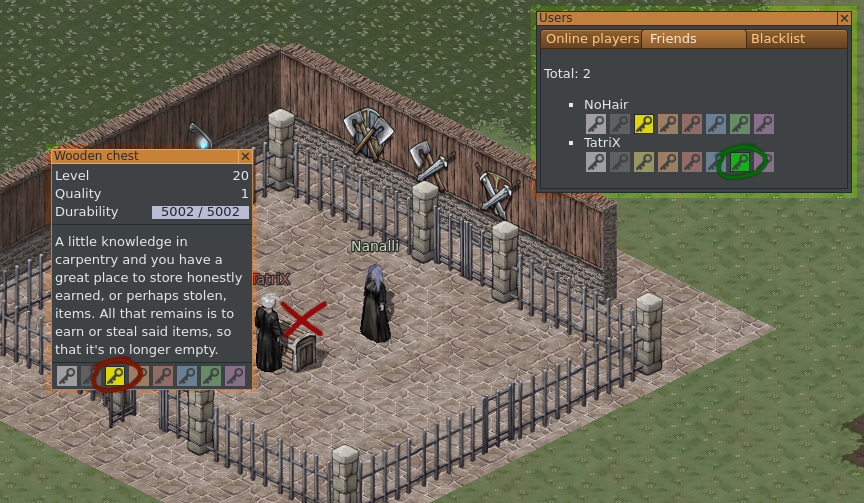 - After patch 0.29 some players experienced erroneous font rendering. This error fixed.
- T hotkey added for dismount/mount action.
- New interface for slot machine added; it displays image rotation and spin results in a dedicated window.
- Ping value in system menu now changes color according to the communication quality.
- Following our players' advice, we've adjusted required skills for some recipes.
- Active action bar will now display percentages.
- Game loading bar added.
- After changing the character customization settings, the character's parameters will now be shown correctly.
- In Customization window enabled settings will now be highlighted; you can disable them with a click.
- A hint for "Space" hotkey is now displayed on big button.
- In bank, the image for vault slot price corrected
- New items added to the shop: forged fence, imperial floor, painted floor, slot machine, jukebox and poker table.
- Drawings for shop wall construction can be stacked now.
- For parcels from shop, various sprites added for different groups of purchased items.
- In shop, you can now see avatar modification samples in hairstyle slots.
- Slot machine and jukebox are now movable.
- It is prohibited to write in the chat system tab
- It is prohibited to collect ready items from tanning tubs in another character's claim.
- Hunter root added to buy up.
- Fuel amount for furnace loading increased.
- You may now put paper in spellbook.
- You may now fill containers with water from overhead containers.
- Fixed: text highlighting in Craft window search bar.
- Fixed: displaying of items carried overhead.
- Error that didn't let you see shop contents without reload fixed.
- New recipes for forged fence and night light (three colors)
- New images for carpet, awesome carpet, fireplace, iron fence, parcels, wall decorations such as shield and axes, shield and swords, axe and sword, food such as Big tat, carrot cake, coconut cookies, hemp cakes, meat pie, mutton pie, pizza and potato casserole.