HELLO TO EVERYONE!
Patch 1.0a released.
Downloads as 8/29/15:
1) JKA KOTOR 2 DUELS DOWNLOAD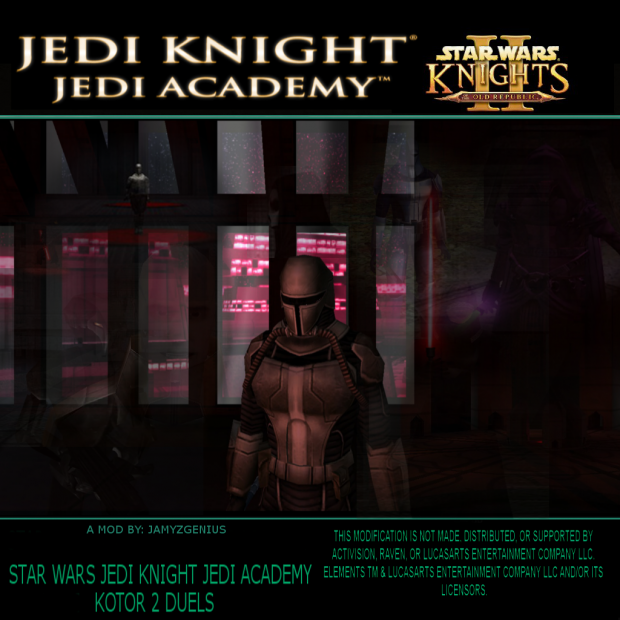 ---

DOWNLOAD THE PATCH IF YOU DOWNLOADED THE CORE VERSION ON APRIL 11. THERE IS NO NEED TO DOWNLOAD THE PATCH 1.0a IF YOU DOWNLOADED THE CORE VERSION AFTER OR IN APRIL 12.
---
2) PATCH 1.0A DOWNLOAD [not needed anymore]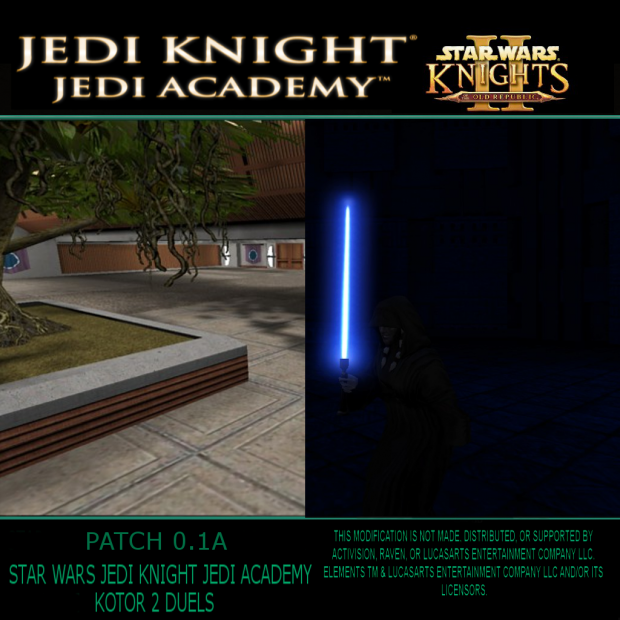 ---
If you want more. Download the Multiplayer Map Pack. A standalone extraction release from this project that allows players to enjoy their favorite maps from the mod in your favorite multiplayer game modes!
3) MULTIPLAYER MAP PACK! DOWNLOAD [optional]

---
If you can throw me a review. It takes you less than 10 minutes. I want to hear from you to improve. Thank you so much.
or at the top of this webpage under the "reviews" label.
---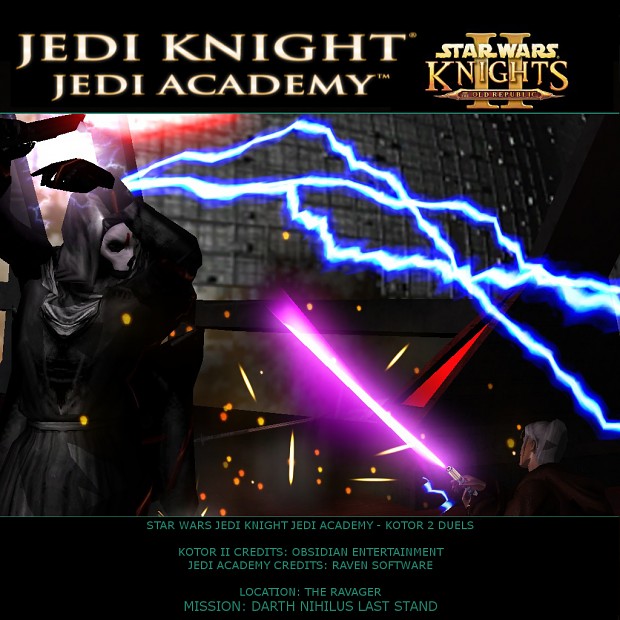 About Patch 1.0a...
This patch it's a quickfix for the mission "Master Vrook Last Stand". A bug that prevented the cinematic to run has been fixed. Also the mission "Kreia Vision" it's fixed. A R2D2 skin has been placed to avoid the feeling that you are killing R2D2. Finally, the saber menu has been fixed. Now, you can change from light sabers to a sith sword, vibroblade and more. More lightsabers added in every section and added a saber style option to change to the style you desire.
---
README - PATCH NOTES.
total conversion
---
---------------------------
STAR WARS JEDI KNIGHT: JEDI ACADEMY
---------------------------
MOD AUTHOR: JESUS F.G./JAMYZGENIUS
EMAIL: JamyzGenius@hotmail.com
MOD NAME: STAR WARS JEDI KNIGHT: JEDI ACADEMY – KOTOR 2 DUELS
FILE DATE: 4/10/15
RELEASE DATE: 4/11/15 TITLE: PATCH 0.1a
---------------------------
INSTALLATION
---------------------------
DROP ALL THE CONTENTS IN YOUR JEDI ACADEMY/GAMEDATA. IF ASK FOR REPLACE FILES, CLICK YES.
---------------------------
PATCH NOTES - 0.1a
---------------------------
Fixed "Master Vrook Last Stand". Now it reproduces cinematics and it's playable as it should be.
Fixed "Kreia Vision". R2-D2 dont uses the default skin. Now when the exile start to walk there isno "blaster fire" bug. Also, Atton will not attack Kreia randomly. This happened at 5% when themission was loaded.
Fixed the Saber Menu. Now, the player can select more lightsabers and swords. Also, the playercan change it's saber style from the saber menu too. So, now it's more versatile and effective.
THIS MODIFICATION IS NOT MADE, DISTRIBUTED, OR SUPPORTED BY ACTIVISION, RAVEN, OR LUCASARTS ENTERTAINMENT COMPANY LLC. ELEMENTS TM & LUCASARTS ENTERTAINMENT COMPANY LLC AND/OR ITS LICENSORS.