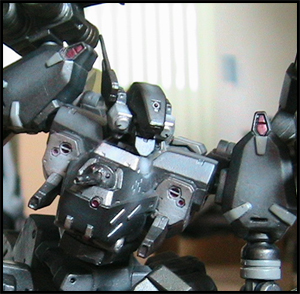 Hey again everyone, yet another update.
Whilst snagging myself this fellow from ebay, which provides me with great reference for more parts to produce, I am at a little bit of a road block at the moment, I finally got the legs Unwrapped properly, so they look alot better obviously, you can check out the pictures section to find that the AC model looks complete, but if you look closer the parts look stupid because the size`s are not right, I am sure of that anyway...
So what does this mean? , well a little slow down in production because now I have to go a head and play the hell out of Last Raven to get all the parts and then build the same AC with those parts to get reference for their sizes, otherwise the AC will continue to look stupid.
In the mean time, I would like to thank everyone thats been trying to help with critisism in the comments, because it helps to find out what people want/like idea wise, and also I would like to thank those people who also said the quality is good aswell , as thats one thing I am trying to maintain if not improve apon.
Its been fun lately working so hard to get up to this stage, there has been many a day where I have woken up in the late afternoon from working till 4 or 5am in the morning, and then falling asleep again during the day afterwards , or falling asleep on public transport, so theres no shyness when it comes to enthusiasm, especially seeing as my room is filled with coffee cups at the moment.
Anyway , keep supporting me, I enjoy the company you guys give me, that and the feedback is great.
Till next update!
-Dave