Hey dudes,
today we have some real eye-candy for ya! To celebrate the Partnership with the german Community-Page CnCHQ we have released 6 hot ingame pics over there so make sure you check 'em out ;) Here you can see one of those 6 exclusive Pics: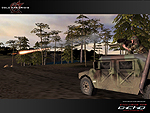 All Pics were taken on one of our custom Maps. You can see our Humvee, the M113 APC and the U.S. Infantry for the very first time in-game. Also our brand new muzzleflash effects too :D And if you take a closer look you will be able to see one of our custom civilian buildings, the lighthouse, on one of those Pics ;)
We hope you will enjoy them!