Current Development Logs:
Devlog 1 - Intro & Level Editor
Devlog 2 - Minimap & Character Stats
Devlog 3 - Pre Alpha Gameplay Video
Devlog 4 - Taking Stock
Devlog 5 - Papercraft Remake
Devlog 6 - Artist Introduction
Devlog 6 - Artist Introduction:
Welcome to this week's update for Partial Quest! Thanks for tuning in. As you may or may not know, Partial Quest is a first person, turn based, dungeon crawler. It has rogue like elements but it geared towards a mid-core experience that allows you to decide how deep you engage. The game takes place on a papercraft tabletop setting. 2D hand drawn artwork is maped to 3D tabletop figurine and maze card stands.
Today, I'm very excited to introduce my game collaborator and artist who will be creating all the 2D, hand drawn textures which will be mapped onto the 3D card stands in game.
George Alexopoulos is a talented comic book artist and illustrator. His black & white ink drawing style is perfectly suited for Partial Quest's new papercraft direction. You can visit his website here:
Studionj.com
Some of his prominent work includes the 2006 emotional single volume manga Go With Grace published by TOKYOPOP:
Ign.com
His website is full of wonderful samples and galleries. The tabletop RPG figurines, in particular, demonstrate what an amazing fit his artistic style and love of RPGs are for this game:
Studionj.com
Early penciling and inking progress:
We've broken down all the work to be done and it's a lot! Below are some previews of the first set of tiles, pickups, npc & enemies, and pickups. He begins with sets of pencil sketches, then moves on to inking before passing them to me to prepare the in game materials and map them to the 3D card models.
Dungeon Tiles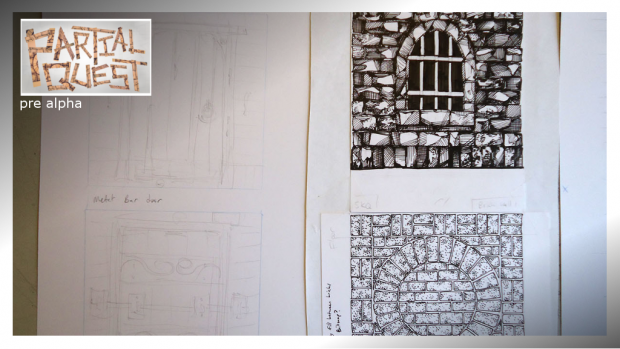 Pencil drawings of door tiles on the left. An inked wall tile at top right, and an inked floor tile (in progress) at bottom right. We're shooting for 3 different environments, each of them will have sets of floor and wall tiles that randomize for variety. This is progress work from the first set: the dungeon.
Pickups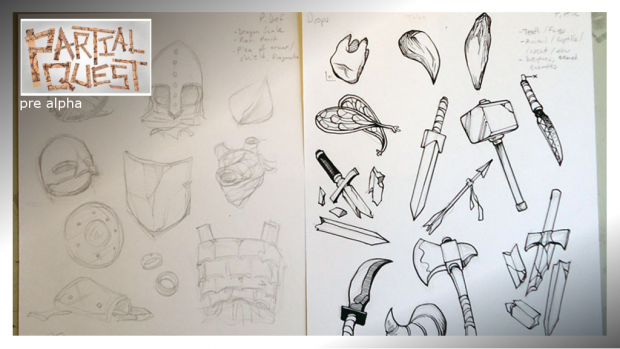 All enemies have a chance to drop loot. The loot that they drop will always be relevant to who/what the enemy is. So a giant spider will not be dropping armor or gold, it will drop a fang or a stinger. George is excited to create a lot of loot variety to keep the game interesting and fresh. We're itemizing the types of enemies and the relevant sort of drops they'll provide. I'll go over inventory and upgrading in future dev update to explain how it works in Partial Quest.
NPCs and Enemies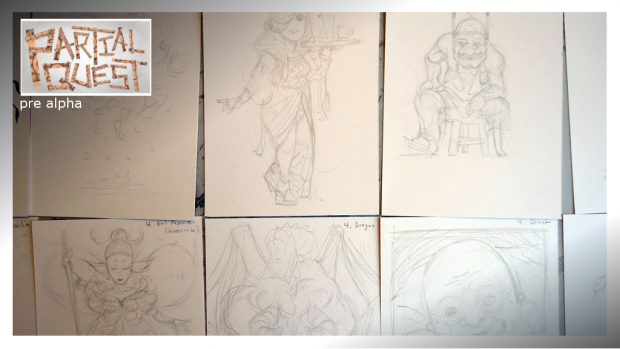 This is a sneak preview of some of the NPCs and enemies in early progress. The overworld will have a cast of NPCs you interact with to perform high level game actions (buying/selling, upgrading, quest/character creation, hall of fame, memorial). As well there will be quest related NPCs that you find and engage with inside game levels.
Player Character Portraits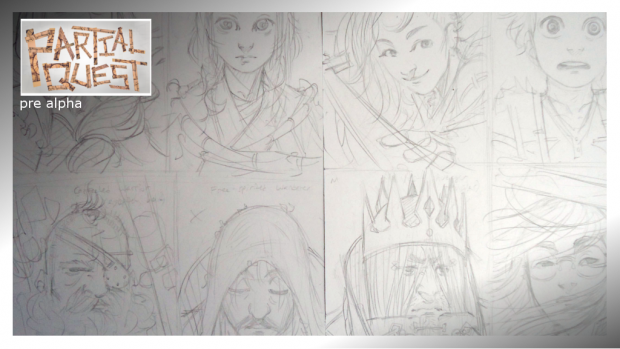 Above is another very early sneak peek, this time character portraits. When playing the game, you will be creating many heroes to embark on quests with. George wanted to create a pool of character portraits that you can select while creating new characters. I'm very excited we're adding this level of personalization. The portrait will replace the temp image that's currently on the hud. I'll explain character and quest creation in future dev updates. :)
In Game Integration:
Once George completes a first draft of a texture, I bring it into the game. First step is to create materials and add them to my tracked pools of materials. I've created simple 3D models of tabletop card stands with which the in game levels will be created. I've refactored the old code to allow for a single model prefab for each card type (floor tile, wall/door card, enemy card, interactable card). All cards of the same type share the same card model and I dynamically swap out the materials on them as the game is loaded and the entities are created. This allows for maximum extensibility and easy updating of the card models.
New Card Stand Models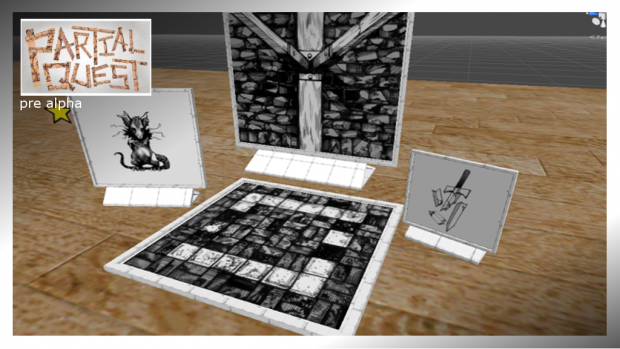 The new card models. 1 of each type. All walls/doors use the large card stand, all enemies use the medium stand, and all interactables (breakables, treasure chests, and loot pickups) use the small stand.
Rough In Engine/Game Preview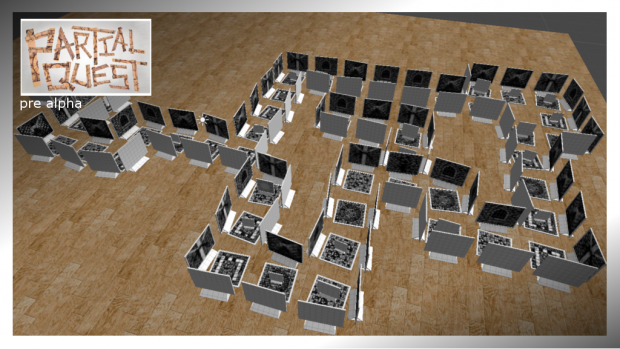 And here's a quick view from above of a level loaded using the new assets. The game takes place on a table top in a kitchen or living room (haven't decided). The surrounding room will be modeled to immerse you further. You play in first person, walking through the maze on the table.
Thanks for Dropping By!
There's a lot of work to do still, but I'm very pleased with the progress so far. It all still looks very rough but I wanted to do a development update so we can share progress and you can watch it evolve. We're hoping to wrap up the core development by the end of the month and submit to the mobile stores early on in March. Wish us luck! Next dev update will be a video update of the new artwork in action (once I've polished up more of the game side stuff).