Hello once again! My name is Mike Smith, and I'm the character designer (and chef) for the indie brawler Paperbound. Last week we spent some time with our initial character Eddy. This week, we dive into the book of "Skull Kingdom" to take a look at the conceptual development of the second character to hit the drawing board: Skull Soldier. Below is the final design of the character, posing on a hill of smoke, rock and bone.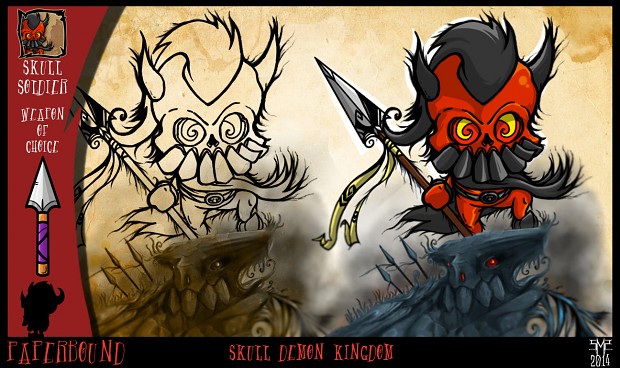 I had a tough time at first trying to figure out what pose to put this character in. I thought of looking into comics, and finding some stand out poses from famous characters, but after some initial research, I discovered there's only one artist that really accentuates dramatic and powerful poses: Frank Frazetta. In essence, Skull Soldier owes his stately stature to the intimidating presence of Conan.
What follows are several concept sketches of Skull Soldier as we tried to nail down his overall look and feel. The outfits represented below are not all found in game, but were necessary to get an understanding of the character. From flaming skulls, to industrial floating skull transports, I tried out a variety of concepts. Including his green ceremonial armor.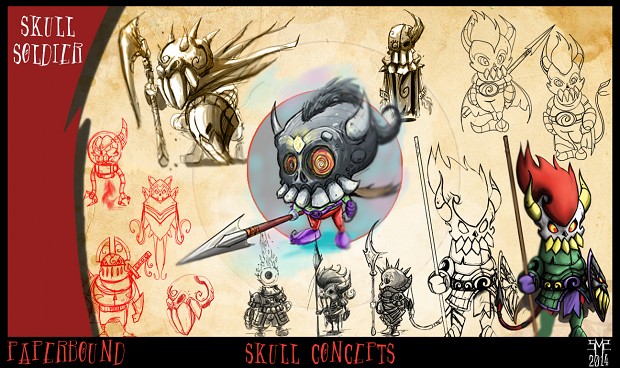 Here we started focusing on a classical 8-bit pixel character representation of him, as well as various tattoos that adorned his skull. At one point he sported what I like to call his "M.C. Hammer" pants.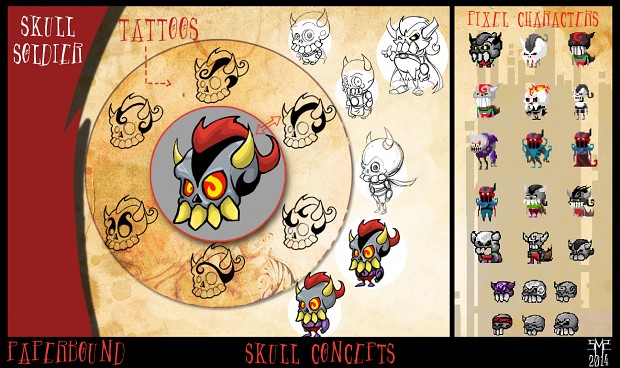 The last character concept was a space outfit, that was never truly meant to appear in-game. This concept piece was just a side sketch (along with the previous Space Eddy) to have a little fun with the characters and experiment with an alternate sci-fi costume.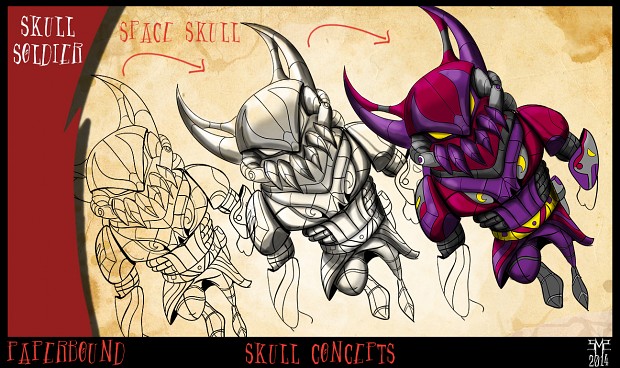 And finally, each character in Paperbound has their own unique weapon. The final design this week illustrates Skull Soldier's spear, from sketch to final rendering.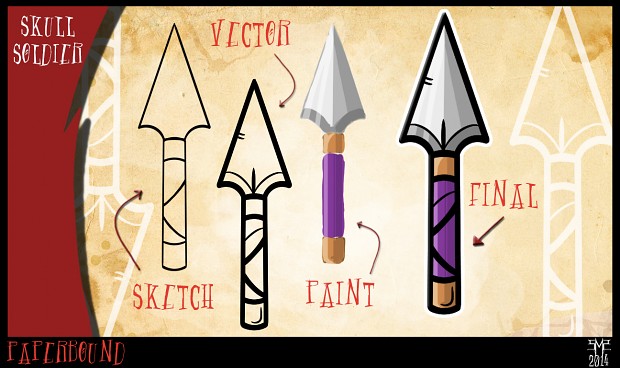 So that's it for this week. We hope you can pop in next week to check out our next character preview. Thanks for taking the time to look at our work, and make sure to check out our Facebook page for additional updates and news!