Hello Lil Llamas!

It's time we showed you our new design of Pandora, and how we came to the decision to change her overall design.
So we began with the Pandora design shown below. And overall, Pandora was a very different game from what it has become now which made the old Pandora not quite fit into the new world we created. At first, our character artist Anil started with young Pandora designs. As great as they were, we realised we wanted a character from in the age range of 15-18. The demons they were slaying wouldn't be right for a 13-year-old. Along with the style of the game, our Fable like humor, we knew it wouldn't stand correctly if we carried on with a younger character.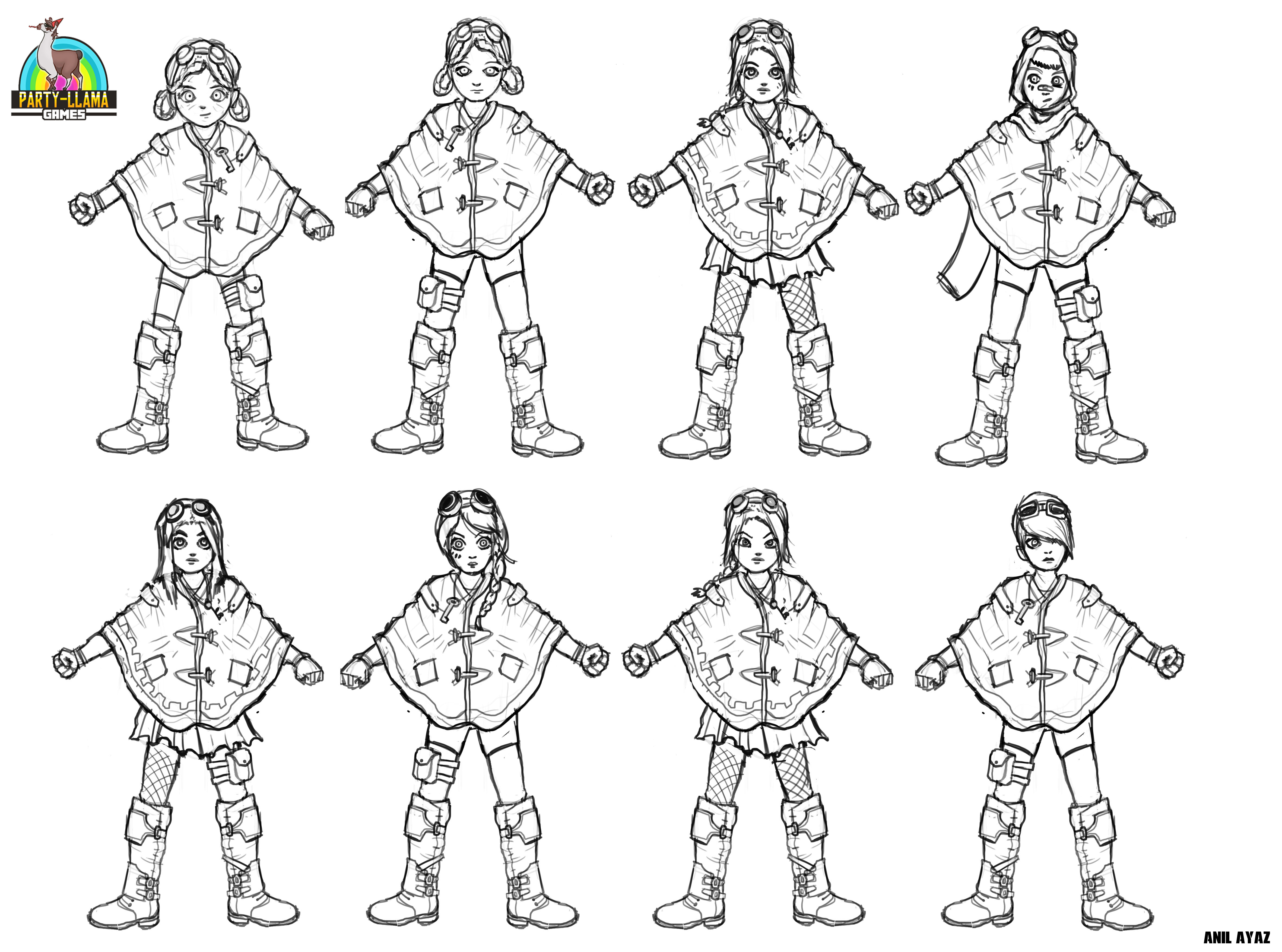 The poncho on pandora was something we created to make her unique and make her stand out from the crowd. While creating the story of Pandora, the game was actually set in modern times. We created a scene where she lived in a town where it rains all the time, hence the poncho. When changing the story, we loved the yellow outfit and boots and decided to keep them on the character.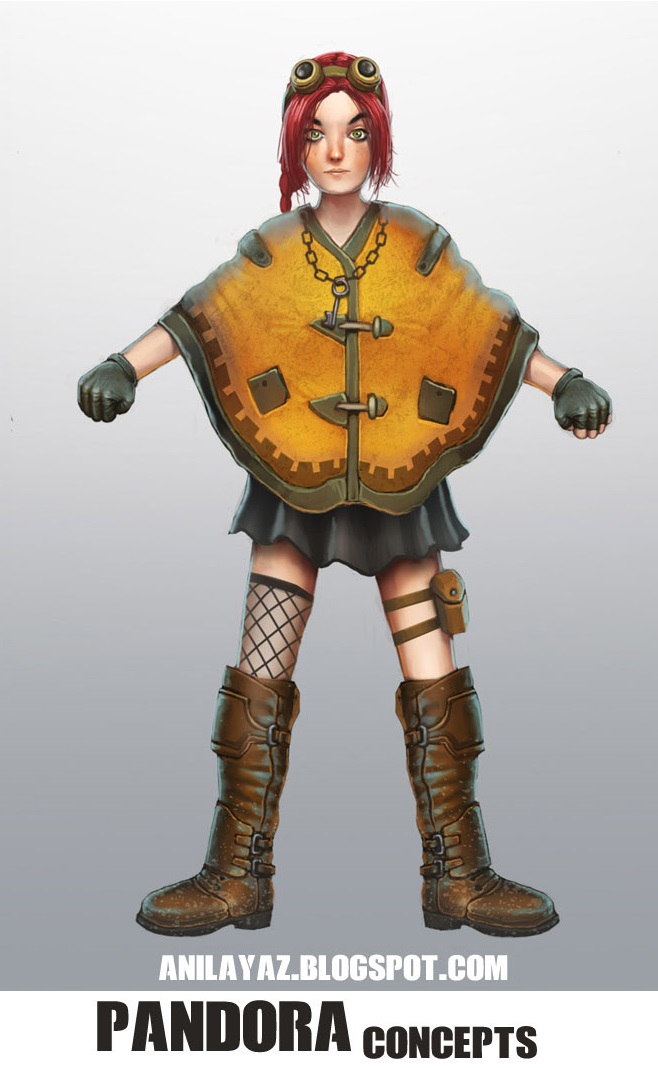 So we finally came to our final design of Pandora, and although we loved it, in the new world of Gaia it just didn't fit.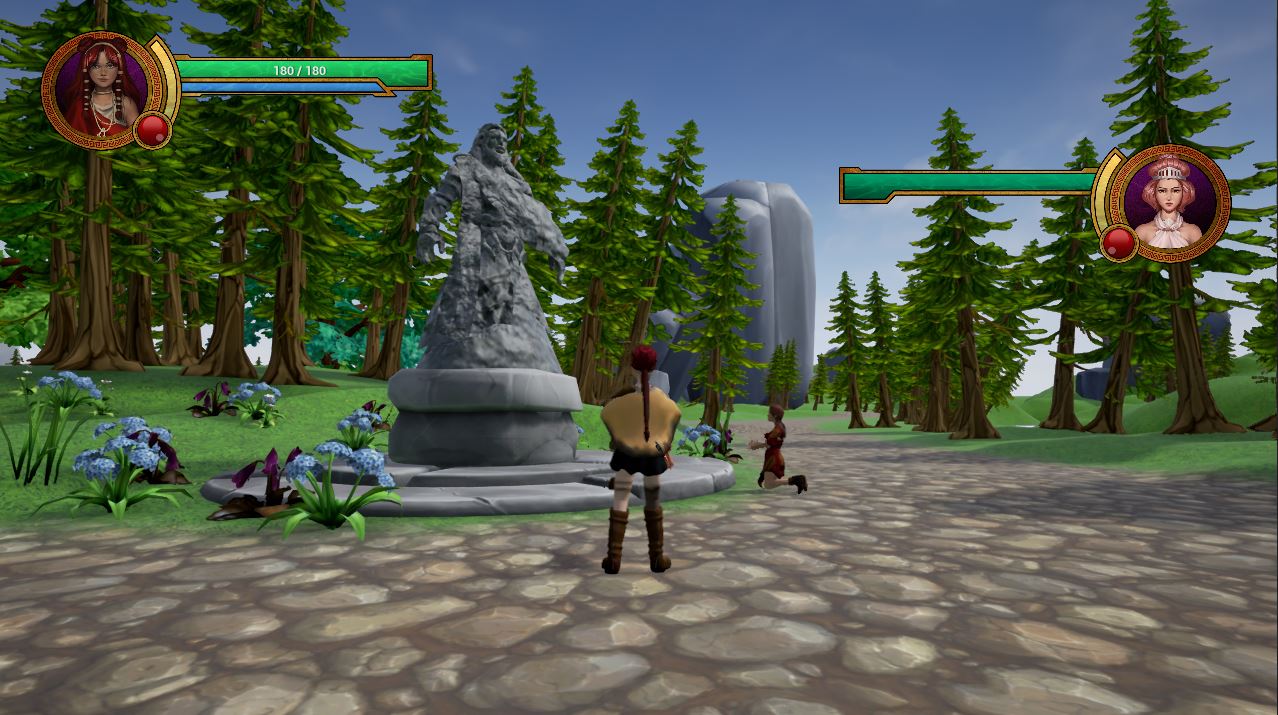 We kept the original Pandora for quite some time but finally decided to create a few more concepts of her. It can be hard to create a new character, not just from scratch, but to mold the current character into the world we have created can be difficult. Amongst the team, two of our artists decided to have a go at creating a new outfit and hairdo.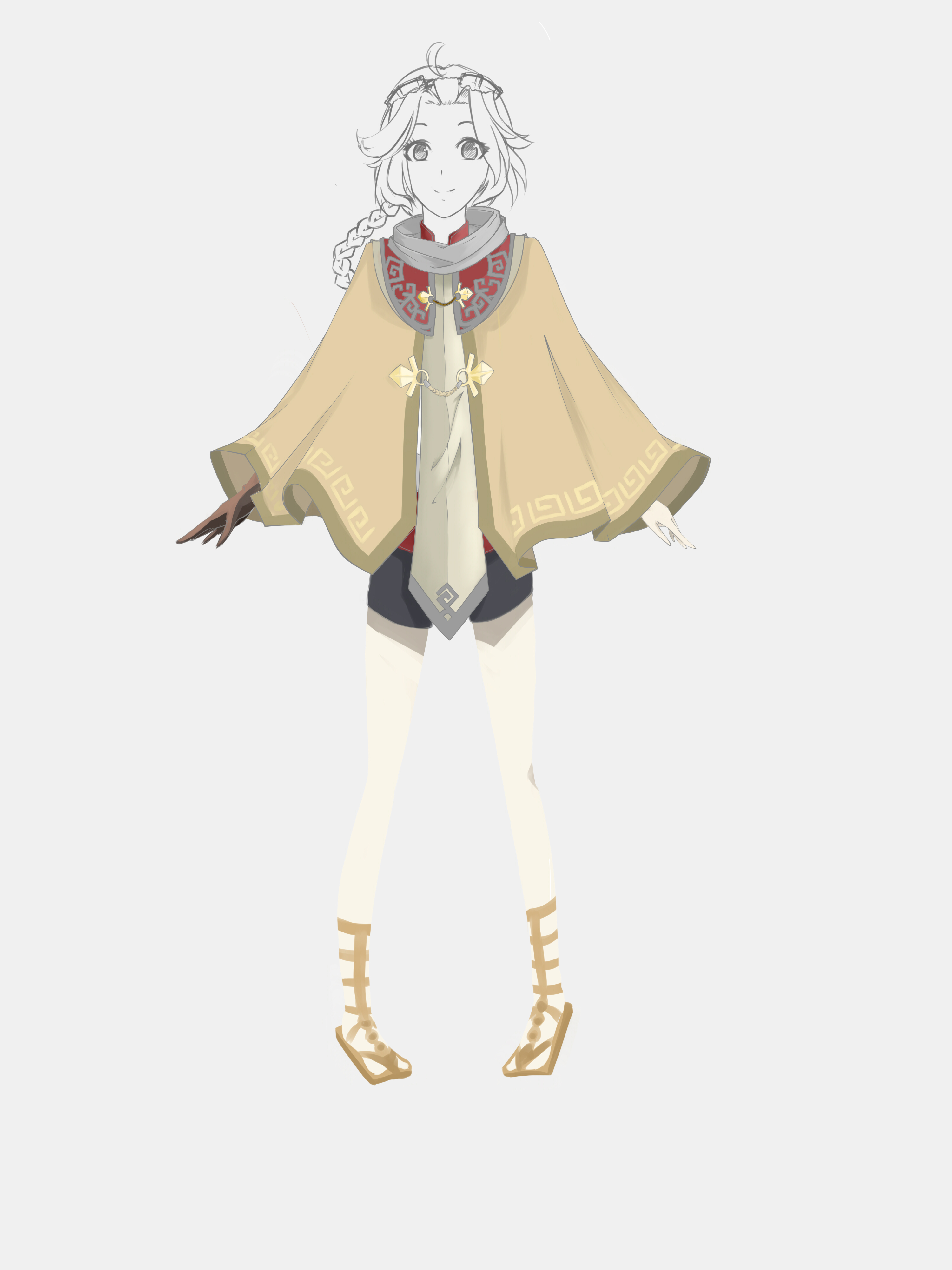 Here you can see we kept most of the original design but tweaking her to look a bit more like she belonged in ancient times. Unfortunately, it still didn't feel like it worked. Pandora has a strong personality, and we wanted to show this through in her design. She's a cheeky little madam, but strong willed and ready to save her world from destruction.
So we decided to go back tot he drawing board, start again but keep her flaming long red hair, big boots and Mexican style poncho coat. We wanted to keep her adventurer style, as still fits in with the storyline. Take a look below at some of our concepts.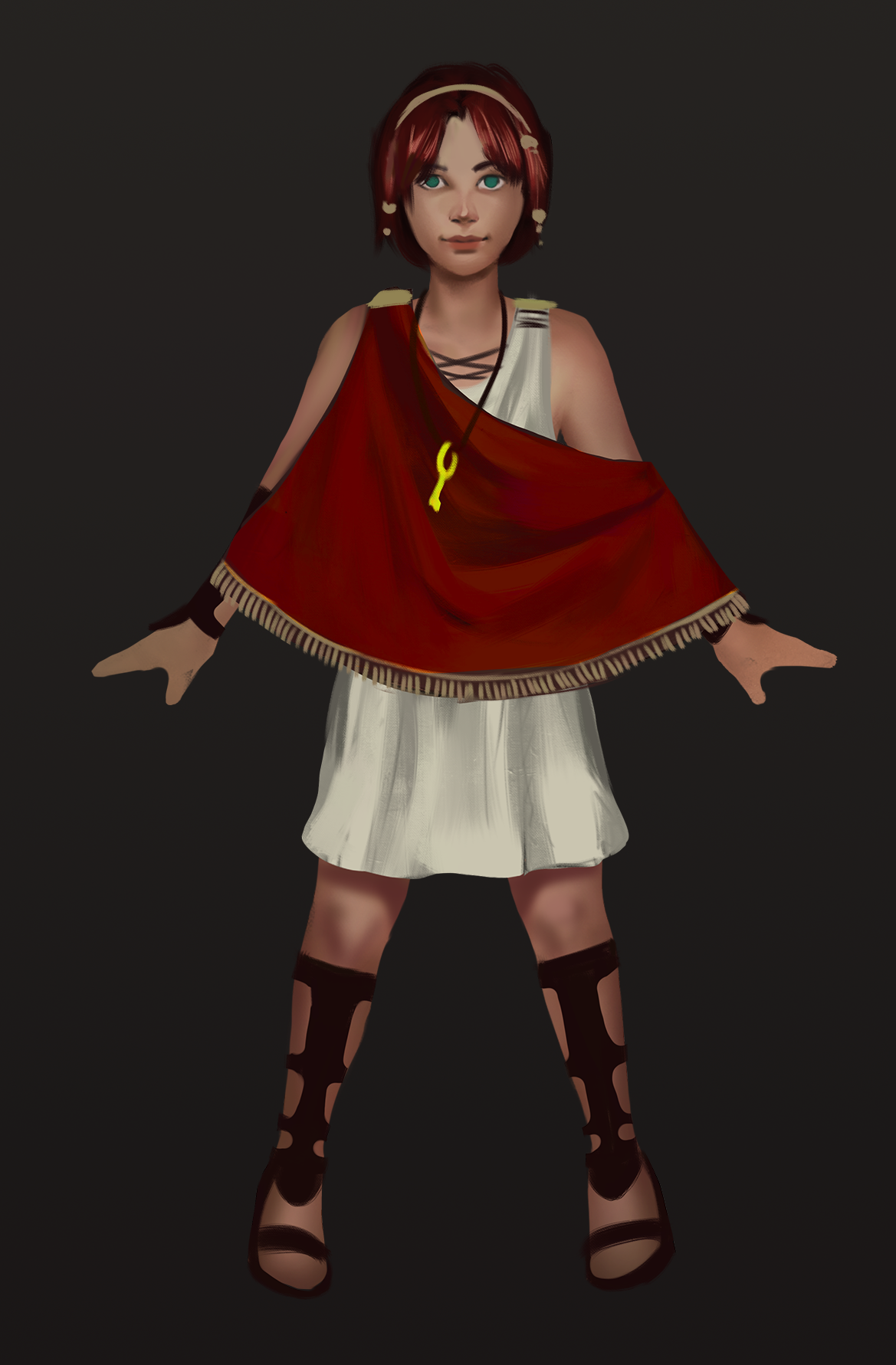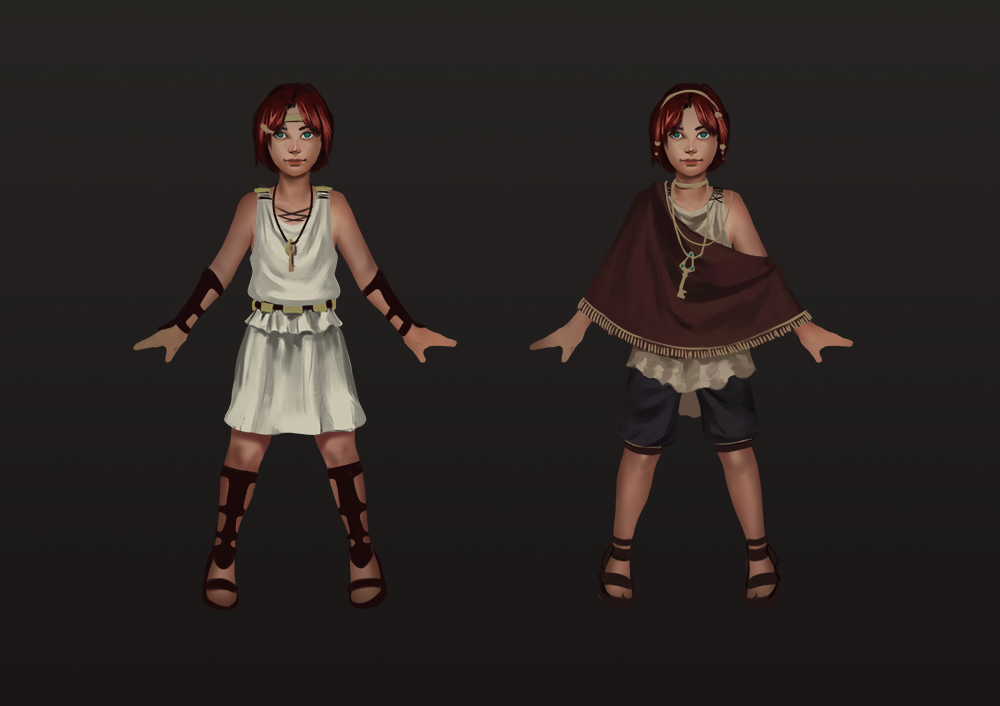 And in the end, we came up with our final version of Pandora.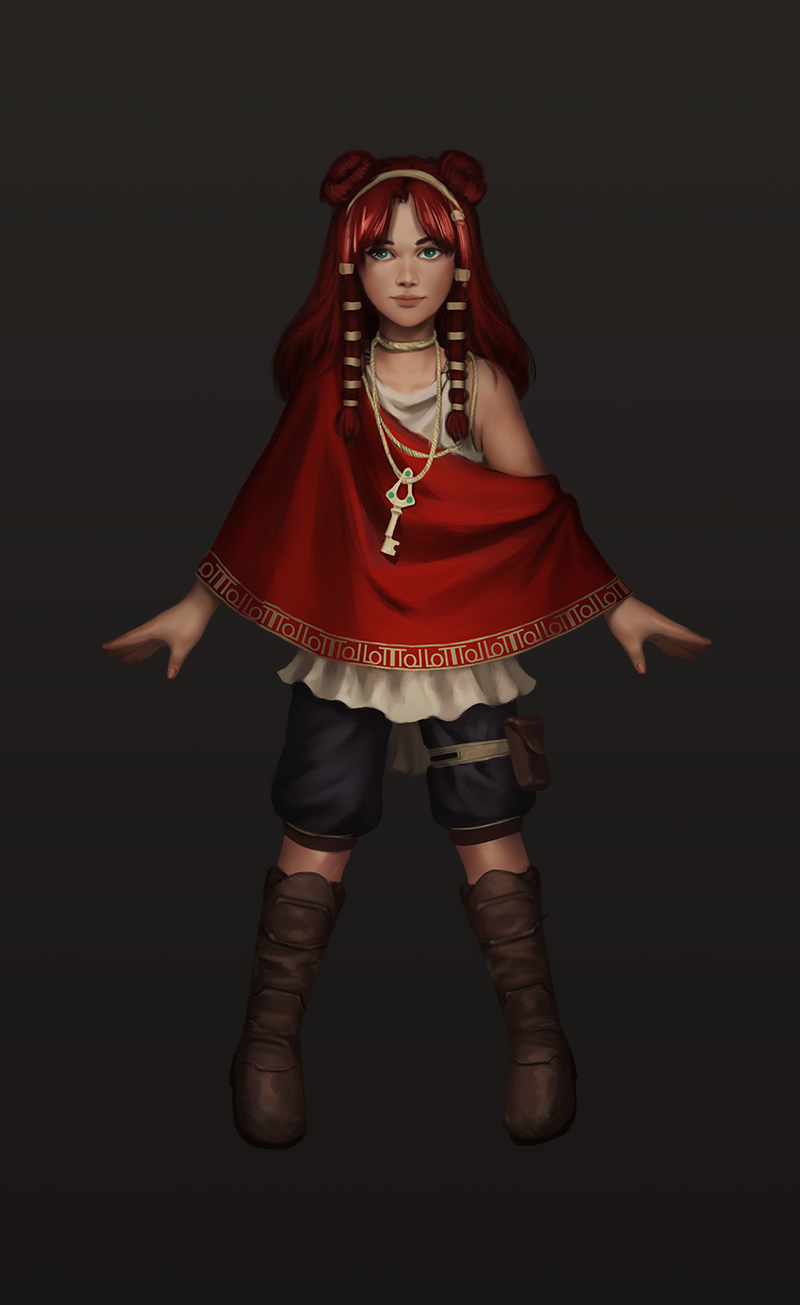 Pandora lives in a small village called Kome, which is located on the outskirts of the main cities. She lives alone with her Mother, Hera. She never knew her Father, and what little Hera has said leaves her filled with more questions than answers—but what she does know has left her in awe of the unknown, mysterious figure...

Often as a child she would fantasize over who he was, and why he had to leave (usually for noble, self-sacrificing reasons)—but she has always longed to know more than what Hera ever said (and even this came in moments of weakness), which is the reason she started adventuring; to find the answers to the secrets in her heart. Though she never found what she was looking for, it has lead her to a passion in helping people, and always makes her feel that little bit closer to her father—whoever he may be.

Pandora's most prized possession is a key she received, on a birthday long ago. Though she can no longer remember who it was that gave it to her (Hera is truthful in saying that she didn't), her mother recognised it as her father's, she was told that the key once belonged to her father, and Pandora hasn't taken it off since.

Pandora is a bright spark in the life of the village; bubbly, outgoing, and filled with positive attitude. Though she works as the local delivery girl, she loves adventuring and as such tends to run a bit late, as she is often distracted by whatever promise of excitement passes her way. But the people don't mind, and see it just as another quirk in her loveable character. There are of course a few local grumps, but they're just water off the duck's back, so to speak.

Straightforward and at times a little too blunt with her ideals (and words!), Pandora prefers to get things done without tactful maneuvering, though she isn't beyond the occasional bit of mischief and craftiness to achieve her goals. She's definitely one to be cheeky when she can, giving her one liners she likes to use on the residents of Kome.

When she unleashed the evils from Pandora's box, she was filled with regret so immense she almost couldn't bear to live with herself, though Suze was there to bring her back from that dangerous edge and tell her how the world might be saved. With purpose and the hope to make everything right, Pandora wholly devotes herself to fixing the world.

We hope you like the new Pandora! Leave a comment below on what you think. We'll be updating you guys soon with our new Pandora model we are currently working on. We can't wait to show you guys!

Keep playing Llamas!
Nareice