It is done, we bring to you a first map-package with three new Maps for World of Padman. ENTE himself redid three maps from old Quake III arena days over again. The PadPack contains PadGallery, PadCastle and PadCrash. Even though these maps are not lilliput style maps, they promise and deliver quantity construction and fantastic game action for that oh-so-good WoP feeling. Beside normal FFA matches, the maps also work with the game types "Last Pad Standing" and "BigBalloon", to play "Spray Your Color" is not possible.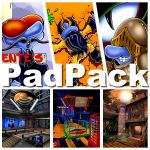 The three maps are very different and unique from one another. With the PadGallery featuring an enormous, modern and impressive detailed museum (or art gallery), in which there is really much to see, but which you can get lost in very fast...;) The PadCastle is a small, ancient castle, where knight's fight in medieval matches. To go with all of that we have still the very colourful PadCrash, an arena map, which comes in three different versions in the package. With PadCrash including an all new BigBalloon version for a completely new BigBalloon-Feeling. So, now go have much fun with the new maps!!!
Download (wop_padpack.zip) from:
eXtreme-players.de | ModDB.com | gamefront.com | kickchat.com | Frankenraecher | snt.utwente.nl
And for those who like it more comfortable, we have an installer for Windows:
eXtreme-players.de | ModDB.com | gamefront.com
Installation and start:
1 ) Extract wop_padpack.pk3 into your 'World of Padman/wop/' directory (to the other pk3 files)
2 ) Start World of Padman
3 ) All maps are accessible via the 'create server' menu now.