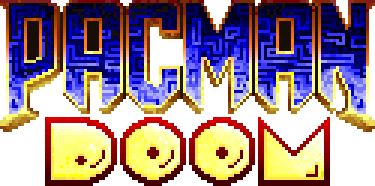 Version 1.1 has just been released! This version contains a myriad of small and big fixes. My thanks go out to all the testers and all of the others who have been so supportive of this project!
Because of summer vacation and work obligations, I expect to not be able to work on this project until the second half of August. I hope to upload the final version to idgames then. Any feedback until then is appreciated: I am sure there are still some isues I might have missed.
Pac-Man Doom is a 12-map adventure, where you run around mazes and other exotic locations in search of Pac-Dots. Lots of custom sprites immerse you in a world that is both Doom and Pac-Man at once. The 12 maps span a wide variety of locations: from taking you deep inside a computer mainframe and a haunted mansion, to a lush green hedge maze and a beach resort. Keep running and make sure to take care of those Ghost Pinkies!