Current status
Core mechanic:
The mechanic was decided fast. This was inpired when I played Perchang, controlling the gizmos to send the balls to goal. It drives my fingers crazy for the coordination. Then I thought how about a simple gameplay that make two characters meet by two hands control? Prototype always helps. I made a fast prototype with few hardcoded levels. The feel is pretty good! While we were struggling for our next game, why not just make a small one first? Then we decide to go with it.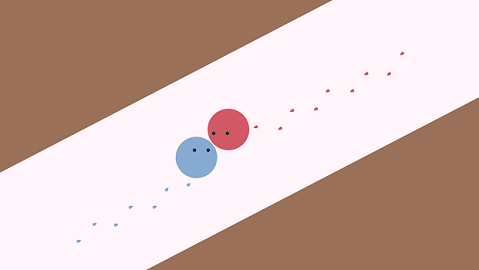 Theme:
For a product, we always believe the WHY is important. And one of the Rolling Pig objectives is connect something in life to our games. 2 characters/meet/move along a path => LOVE!
Game mechanic: We plan to have few chapters that each chapter has a topic about different situations. Then each chapter will have the corresponding envionment mechanic.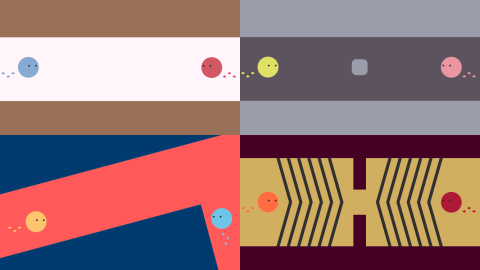 Game design:
We discussed the result after each level. Any score/star? As we want to focus more on the experience, we decided to not have these things. We will only show a graphical percentage to represent how far of each character go. I think this fit the theme of how 2 individuals be with each other.
Also, there are two way to fail the level. 1. character collide to the environment/obstacle, 2. character is being controlled for a certain time. The second one is to emphasize the theme that we encourage that everyone should participate in any relationships."
Art:
Since we both are not artist, we decide to stick with a clean and minimalistic art style. Here are the styles we tried.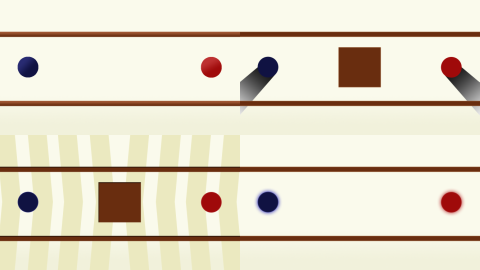 And finally we choose the cleanest one with no shadow and other stuffs. Then we added eyes for the "characters". The eyes make it vital! Also we add footprints for the characters to indicate the path. This will be good for player to share the result in social media.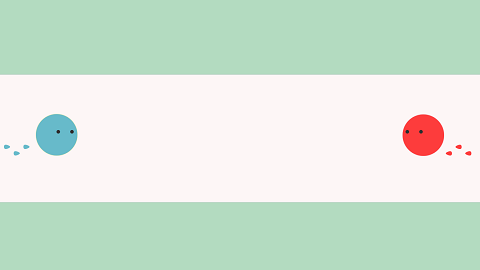 Next:
Game design: What result? Score? Star? Any time limit?
Art: UI Design.
Programming: Implement the mechanics.
Other: Will make more gifs to show the game.