This year we decided to make the super long trip to Seattle to present ourselves at one of the biggest indie game tradeshows on this planet, PAX Prime 2015. And it was amazing! This is the story of this adventurous trip...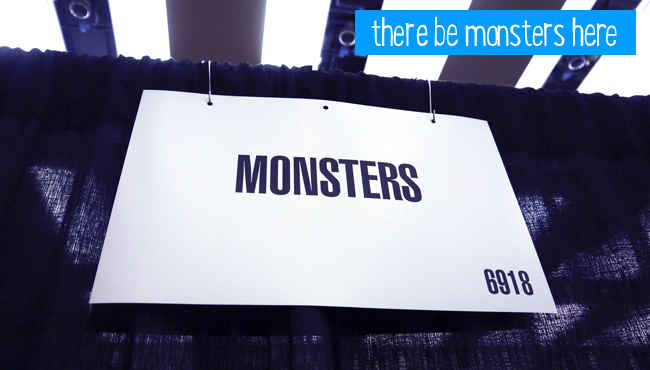 We landed on Tuesday after a long and tiring flight, with a huge smile on our faces. We were really here! We hastily checked in and run to the convention center... to collect our badges of course! We accidentaly spent a couple of hours walking around the show. Let me tell you, it was like a video game fairytale.
All of the heavy hitters were on the 4th floor, already hard at work building some mighty impressive booths. Behemoth had a huge space, unpacking gorgeous cabinets that would be their gamestations. Right as we turned the corner Ubisoft was lifting a monstrosity of a vinyl banner for their upcoming Assassin's Creed Syndicate. People working everywhere, booths almost done... booths almost done? Were we too late??
We hastily took the escalator to the 6th floor, home of most indies and immediately felt at ease. What a striking contrast. Almost nobody working, most of the booths still empty... The indie way baby!! We found our cute little corner booth, briefly discussed screen placements, took another stroll downstairs and then left.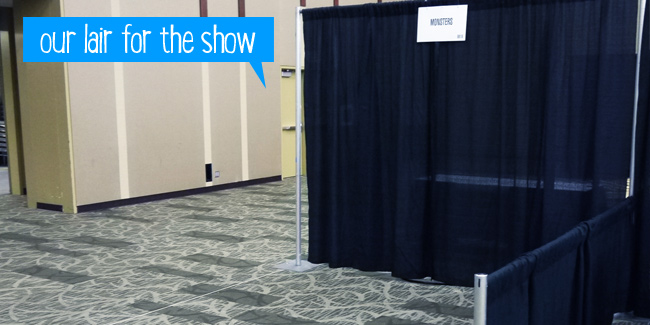 The next couple of days are a blur. I remember raiding the local Fry's and Best Buy to purchase computers, controllers and monitors, ordering furniture from Amazon, renting stands and ordering graphics for the booth. What I do know is this: it was Thursday night when we had everything in our possession... and the show was starting the next morning!
We got everything to our booth and worked as long as jet lag allowed us to. Half past midnight we still had a lot of stuff to do but I decided not to pull an all-nighter, we would need the rest. So we hesitantly went to sleep, hoping everything would run smoothly the next morning.
I absolutely hate Murphy and his freaking law.
An amazing number of things went wrong and in a nutshell, despite getting there early we were still trying to finish the booth when people flooded the room. Focusing on the work at hand we managed to get one station operational, then another one, then the TV for the trailers. By noon we were up and running, albeit with some minor issues that would be fixed the next day.
When I finally had a chance to compose myself and look at what is happening I smiled widely. People were crowding our tiny booth, playing, watching, laughing. I hid my badge and stood in the crowd. "Apocalypse Cow... a violent platformer... looks cool" was the most common phrase, often followed by the louder question "Where is the cow?". That is when Tobias jumped over to explain the game and story.
It was intense. It was taxing. It was surreal. I never got a chance to see the rest of the show! But it was a wonderful experience.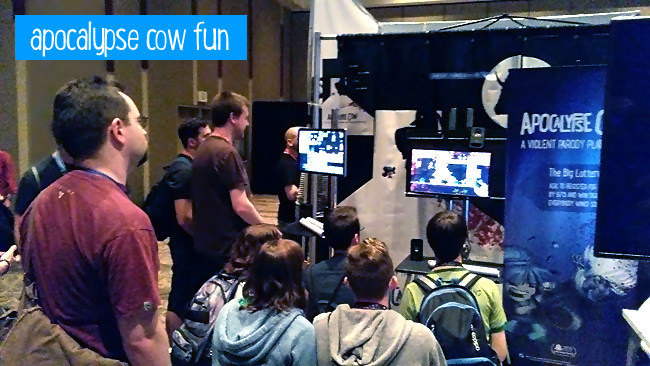 Was it all worth it? Hard to say. One of the best things I got from the show was confidence that we are making a cool game. Seeing people playing and then returning later in the day to give it another go... Seeing people bringing their friends to play, or anxiously asking us about the release date.. it was quite the confidence booster. We also did get some coverage. I am still not sure if it was worth the hefty 5 digit pricetag. We will have to wait and see.
See you next year!