Hello there! On the 2nd birthday of WWII Operations: Desert Front, we are going to look back on great achievements with the game. It has been a long road, and what makes it worth it is the journey we have gone through.
1. IndieDB Headlines - February 11th, 2020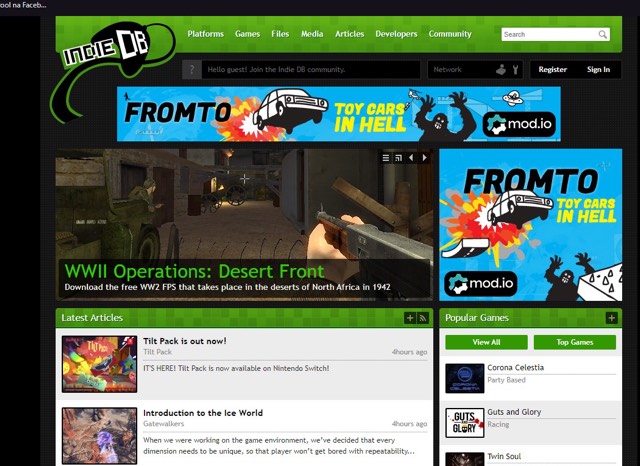 It was the first time one of our games was ever featured, we were shocked at first, like everybody would. We soon realized that W.W.II Operations: Desert Front was not just a lucky game, it's got potential.
2. Game Jolt Indie Friday - September 5th, 2020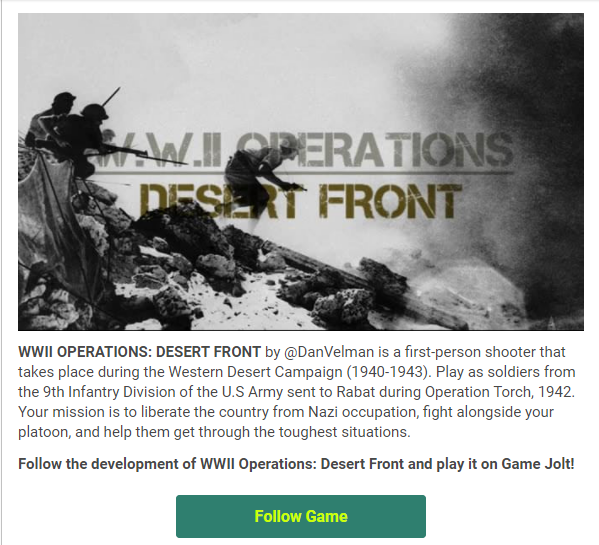 I thought it was over since it had been 7 months since the IndieDB headline, but then one day I received an email from Game Jolt, you could guess what it's about, we got that epic Weekly Featured Game status on Game Jolt, our followers started going up real fast. It also got on featured on the Shooter page of Game Jolt according to my friend, but I wasn't around that day so I sadly missed our achievement :c
3. Indie of The Year 2020
Now that's a great achievement, you guys have voted for us to be part of the TOP 100 games on 2020, it may not have won the award itself, but we are super happy that it got into the top 100 already. Images can't explain, so this is a link to the Top 100 page in 2020, scroll down the the "First-Person Shooters" section and you'll see our little game there :0

Sadly we hadn't got anything in 2021, but it's fair, it's a 2020 game, we are still happy with its achievements. We've gone this far thanks to you guys, if it hadn't been for you, Desert Front would've been forgotten.
THANK YOU!