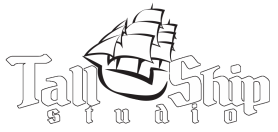 Hey DREAD-Heads,
We have finally completed our first video for the Demo we have been working on for the last couple of months. It has taken a lot of time to convert the prototype of DREAD into a working demo for all of you. But now the peak has been reached, we are at 65% completion of the demo and it feels great to have a lot of the heavy lifting done. Granted, there are sure to be things that come up to make things difficult, but that is the fun of it isn't it?
We are excited to tell you, our fans, that we are also going to be releasing a full list of the official tiers and incentives next week. For those of you who sign up for our newsletter (here --> www.tallshipstudio.com) we will be releasing our Kickstarter page a week early to you guys to tell us what you think and to show some support. And I would like to add that we are sincerely grateful for all the support we have already had.
We have been working on DREAD for a year and a half and in that time we have seen our fan base grow from nothing to a staggering amount of fans, for something that we have really only explained. So we here at Tall Ship Studio are ecstatic to share our first video of DREAD, and to get you guys psyched to play it.
So without further ado...
Thanks for watching, and don't forget to subscribe at www.tallshipstudio.com,, and follow us here at IndieDB and like and follow us on facebook at www.facebook.com/TallShipStudio