Halloween is here! Welcome to Spiral Spooktacular 2013!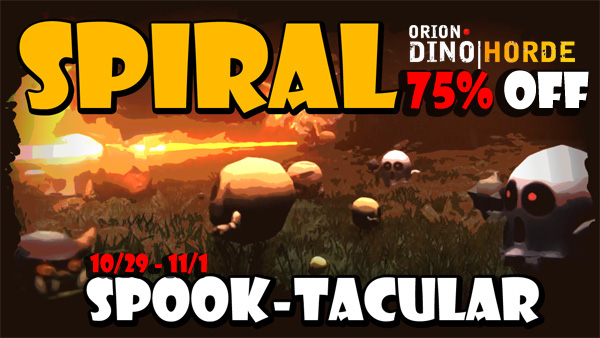 We have updated the game with a wealth of new content including:
Game Version 3.0
8 Multiplayer Maps.
New Store Items.
New Enemies.
New Competitions.
New Rewards.
GAME VERSION 3.0
First up is the massive Game Version 3.0 which changes the game completely and adds the Next-Generation Graphics Pack making everything looking better than ever!
NEXT GEN GRAPHICS PACK
Packed inside Version 3.0 is a massive graphics update which completely revamps the entire game. What was once a great looking game is now incredibly breathtaking and running smoother than ever!
JURASSIC UPDATE
Secondly is the massive Jurassic Update which adds new Spiral Store items and 8 new multiplayer maps spanning a variety of game modes.
SPIRAL SPOOKTACULAR 2013
Third, and most importantly, is Spiral Spooktacular 2013. This is the very first Spiral Event and offers completely new and over-the-top content inside the game for no charge.
THE PUMPKIN KING CHALLENGE
The two main offerings include a Survival match at Hell in which you get to face the mighty Pumpkin King and his Gang of Evil Minions allowing you to win a free hat.
ELM STREET SLAUGHTER
The other mode is a custom match on the Slaughter game mode inside a brand new level called 'Elm Street' in which you try your best to stay alive against the Evil Minion Horde.
75% OFF ON STEAM! (10/29 - 11/1)
On top of all of this the game is also 75% off on Steam and we are launching our third Double XP event to coincide so make sure to grind your favorite player classes and obtain as many unlocks as possible!Hope to see you in Hell!