WELCOME TO WAVE 3!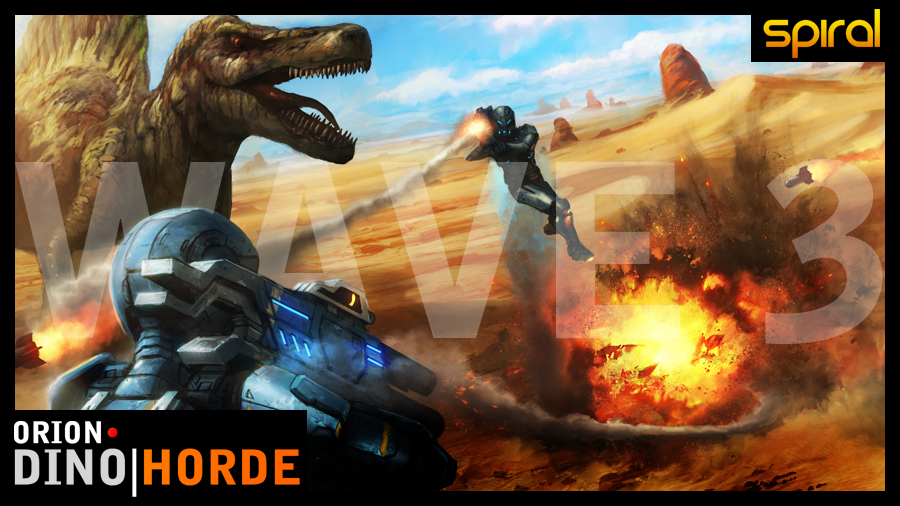 We're adding over a thousand new players to the 'ORION: Dino Horde' Multiplayer Beta and have updated the game build from Wave 2 quite a bit with changes and additions including:
Updated Lobbies
Full 32-bit OS Support
New A.I System / back-end (improved navigation)
New Kill Cameras
SPIRAL STORE - PURCHASE TRANSFERS (YES!)
We are getting a lot of questions regarding Spiral Store purchases (hats, armors, taunts) and whether or not they will carry over for the official release / game build. The answer is YES! Now go purchase that Golden Hammer armor and Cowboy hat.
YOUTUBE & TWITCH.TV (MEDIA SHARE)
We are also being asked whether or not users can share videos and screenshots. The answer is absolutely yes. You can post any sort of media absolutely anywhere. In fact we prefer it if you report bugs WITH videos showcasing them as it typically helps us resolve them at a much faster pace.
WAVE 3 BUILD - MAJOR CHANGELOG:
New A.I System - Tweaked Pathfinding & Navigation.
Fixed direction of forceful dinosaur attacks.
Added random world dinosaurs in survival maps.
Tier 3 augments now cost 10,000 CR (instead of 7,500 CR).
Added star icon to lobby host.
Fixed incorrect ammo being restored from ammo packs and supply stations.
Fixed small bug with HUD ammo display showing incorrect number of bullets.
Adjusted running over dinosaurs in vehicles.
Reduced the number of raptors that can be attacking one player across all difficulties.
Fixed laser rifle mesh showing up while aiming.
Changed laser rifle charge to not break cloak.
Wave start closes store menus now.
Reduced Spray & Pray weapon aug to 25% ROF increase instead of 2x.
Large dino stomps no longer do damage or push players that are off the ground.
Fixed dedicated server default values.
Fixed dedicated servers not showing all information in the server browser.
Increased range of motion while being a passenger in a vehicle.
Reduce Raptor bite intervals slightly.
Fix dinosaurs in smoke / under Medical Stasis.
Make large dinosaurs (trike, stego, spin, rex) continue to avoid Volumes and Vehicles.
Fix flyers (rhams, pteras) flight paths.
Fix lobby host stars.
Adjusted PvP A.I dinosaur counts.
'Y' BUtton to change from Medical Gun back to primary loadout (360 game pad).
GDC 2013 - ANNOUNCEMENT ON MONDAY
We are going to be announcing the official release date and price (new buyers only) of 'ORION: Dino Horde' on Monday, March 25th, 2013.
WAVE 4 INFORMATION
We are going to be doing some grueling amounts of testing over the weekend with the new influx of Wave 3 testers. We'll be obtaining all sorts of data and feedback and will be be able to announce more on the start date for Wave 4 next week.
SIGN UP NOW!
If you haven't already signed up, make sure to do so HERE. You will need to own a copy of 'ORION: Dino Beatdown' via STEAM for entry.