The new version 0.0.15 is here and with it, mailboxes come to enrich your day as an orcish innkeeper. You can receive various letters, including a daily report with details about the money you made (and more), fun letters and advertisement and with the new postage desk, you can even wrap and send your own letters to other Orcish Inn characters, for example to the Season Shamans, who offers weather forecasting via mail! But these are not the only changes. The reason this update took a bit longer than usual is explained in the "Roadmap" section below, together with the reason why the next update will take a bit, too (spoiler: exhibition time!).
You can download the new version with your launcher or, if you are new to Orcish Inn, here:

Orcish Inn will be shown and playable at the Poznań Game Arena in Poland from the 16th to the 18th October. So if you are visiting the event, check out pavilion 7 and say hello. Perhaps I have some goodies ready? Who knows! I don't know! Really. No idea. Follow me on Twitter (@StevenColling) to get some insights regarding what I prepare for the Poznań Game Arena in the coming days ahead. More information about the event in general is available here:

The highlights of Orcish Inn 0.0.15 are:
Mailboxes: you are able to receive mail and even send letters to other characters in the world of Orcish Inn. As I'm implementing mechanics (and not primarily adding content), the amount of letters you can receive and send is limited for now, but will change later.
Clan Statistics: there are statistics for every clan available, like how often they visited the inn or how many beers they drunk.
Setting Slot Machine Prices: you can set price modifications for slot machine barrels now, like it was already available for beer and beds.
Beer, Bed and Slot Machine Statistics: display statistics for specific beer, linen or slot machine barrels in use, like how much of a beer is stored right now or already drunk.
Ownership: objects like the hawker post, the tavern post (open sign) and the new mailbox can be "owned" by selecting them and clicking on the small "x" button. Owned objects are prioritized. So if you own a hawker post, the hawker will always fly to that post. If you own a tavern post, only this post marks if visitors are allowed or not. If you own a mailbox, only that mailbox will receive your mail.
Mirror: a new mirror can be build. Currently, you can change your character name from within the game. Later, more customizations (like changing gender) will be available here.
Nasty Bugs: the issues regarding transferring items (changing quality, getting lost etc.) and production (not starting to produce and more) are hopefully gone. I had to rewrite some stuff so I hopefully don't introduce new bugs. If you experience bugs and crashes, please let me know! This time I try to release a hotfix sooner.
Moving All Items: you can move all items from the inventory into a storage or from a storage into the inventory if you hold SHIFT and CONTROL (CTRL) while clicking on an item in the inventory respectively storage.
Optimality Map: short note on the optimality map ("K") which shows preferred places for a selected seed. It ignores plant density now, as that wasn't very helpful when searching for optimal places.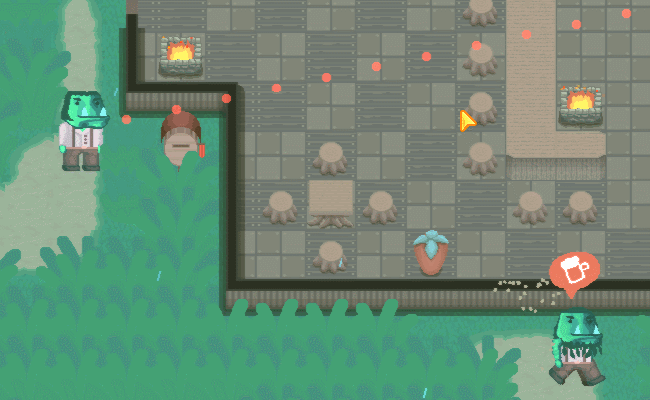 For more details and information about the mail system, please check the changelog. It has a dedicated passage with detailed explanations about how to receive and send mail. It's available here:

Some health related issues of one of my family members and the coming exhibition in Poznań made it a bit harder this time to stay on track. As the exhibition is just around the corner, the next update can take a month, again. I feel really sorry about that! Now let's check what will happen with Orcish Inn in the near future:
Firstly, there are some mechanics and changes left I want to add to the game as part of the pre-alpha. Namely they are:
Beer Certification: a surprising change to the beer system (I hope)
Warmth: stay warm, keep the tavern heated and a more interesting winter
Illness: rework of the satiation/stamina and negative statuses effects so it's more fun
Fishing: fishing bait and fish occurring only under specific conditions (season, weather, day phase etc.)
Farming: giving the player more influence on the ground properties, reworking trees and the compost system
Clan Upgrades: instead of the temporary upgrade screen, every clan will share a bunch of upgrades bought with reputation
Quest/Event System: that's currently on the drawing board, as I'm not fully happy with the current quest system
Other stuff and smaller changes
If you have specific ideas or wishes for Orcish Inn, let me know in the comments. While I can't guarantee adding them, it's super important when designing the other features to have an idea of what others expect. After these main features, Orcish Inn will turn to a closed alpha with some further semi-secret mechanics in the hope to keep you interested for the final release version.
As always, the whole roadmap can change anytime. How registration for the closed alpha and closed beta will work isn't set in stone, but subscribing to the newsletter is a good way to be kept informed regarding major topics like these, as I'm certainly need testers. If you are a press guy/girl or a streamer respectively Let's Player, don't forget to drop me a mail so I can give you access when time comes.
The closed alpha will cover content creation and polish, while the closed beta is dedicated to fixing and balancing. Release is... when it's done, hopefully mid 2016.

The most useful thing you can do for me (besides feedback) is spreading the word! Feel free to share Orcish Inn with your friends, write or talk about it in forums and social media or tell your favorite writers, streamers or Let's Players about the game! You can also subscribe to the newsletter or follow the game on Steam: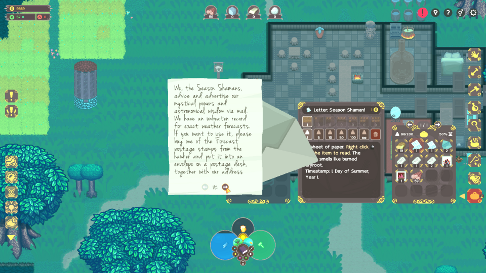 (you received an advertisement letter from the Season Shamans, who offer their weather forecasting service)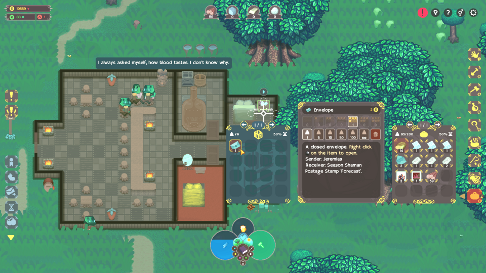 (you can make your own letters, too, and send them to other characters)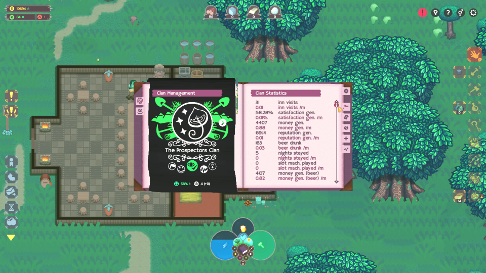 (the new clan statistics page shares information about the clan's visiting and tavern behavior)
Cheers,
Steven Colling