Since the 20's, music has become a key element in feature films. Either epic, atmospheric, funny or sad - music substantially alters the way we perceive imagery. What is valid for Hollywood is just as fitting for the gaming industry as well. However, big orchestral scores were often exclusive to AAA titles, considering the recording costs for a symphonic orchestra. With today's technological progress, decent orchestral scores have become an option for low-budget, or in case of mods, no-budget productions. That means - if you find a composer who is willing to contribute to your project.
At Invision Games, we're very happy to have the talented David Fang aboard. Today, I'd like to introduce to you his latest piece of music for Star Wars: The New Era. "The Battle begins" is the main title of the mod which will also play in the game's menu:
Although this is an entirely new melody, you can clearly hear the references to John Williams' original Star Wars score in the way that the piece is orchestrated. In some cases though, you might consider a pure instrumental track too weak - you might want to have a choir or a singer in addition to give your title additional depth and provoke goosebumps. Listen to "Fall of the Commonwealth" - part of the extensive soundtrack for our third project "Andromeda: The Darkest Night":
Again, this is not the result of a studio recording session, we hired no singer for this track. In our latest developer diary, David Fang explains some of the process of creating a new soundtrack.

Thinking about Melodies and creating ideas for the Track: THE BATTLE BEGINS
It is 8PM night time, right after I just came home from work and school. I fired up the computer, mixer, keyboard, and other connected devices all ready to start composing music for TNE. During a brainstorm session and a piano improvisation session, I was looking at the New Wallpaper Sebastian Kreutz have created. I thought to myself although an ambient track seems more appropriate for menu music, I was requested to provide an epic track, presumably relating to a space battle. This required some referencing to several of John William's previous works with Star Wars. Stylistically, the track "The Battle Begins" is a combination of William's earlier Star Wars pieces from The New Hope and more recently Revenge of the Sith.
Writing, Recording, and Mixing
While John Williams was writing Star Wars, he was only responsible for writing music. In my case however, to bring high quality realistic orchestral sounds to Star Wars The New Era, I had to write, record, and mix this time. All of these three can be quite time consuming.
Notation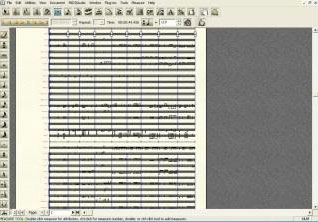 First, I open up the Music Notation program called MakeMusic Finale 2008. I open a pre-existing sheet music template for a full orchestra consisting of woodwinds, Strings, Brass, and standard orchestral percussion such as Snares and Timpani. After setting the tempo, timing, and key signatures, I start composing music and the orchestration process begins.
Recording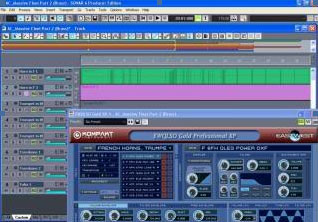 After completing the score, the next step would be the recording process. Instead of using a VST softsynth called Garritan Personal Orchestra provided from Finale 2008, rendering the new piece with the East West Quantum Leap Symphonic Orchestra is more preferable since the samples provide realistic reverb trails and are recorded in full stereo sound.
Essentially, I opened up a sequencer, imported the MIDI file which is the music score in MIDI format and began adjusting notes through Piano Roll view. Before the adjustments, it is extremely important to load the instruments from the EWQL VST (Virtual Studio Tech) plugin and properly assign the Virtual Instruments to their respective MIDI channels. For example, you want to assign the first violin patches to the first violin MIDI channel. Assigning articulations and effects are more advanced and complex, which I will not go into right now.
Mixing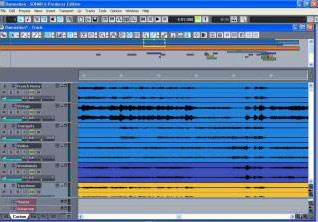 The last process would be the mixing process, where I mix all the instrument .wav files into one multi-track audio mixing process. Here I can do equalization and putting in audio effects.