V0.1.1.0
Orange Moon is updated to V0.1.1.0, which adds 38 achievements. Flamethrower can now be angled, plus bugs fixed and improvements made.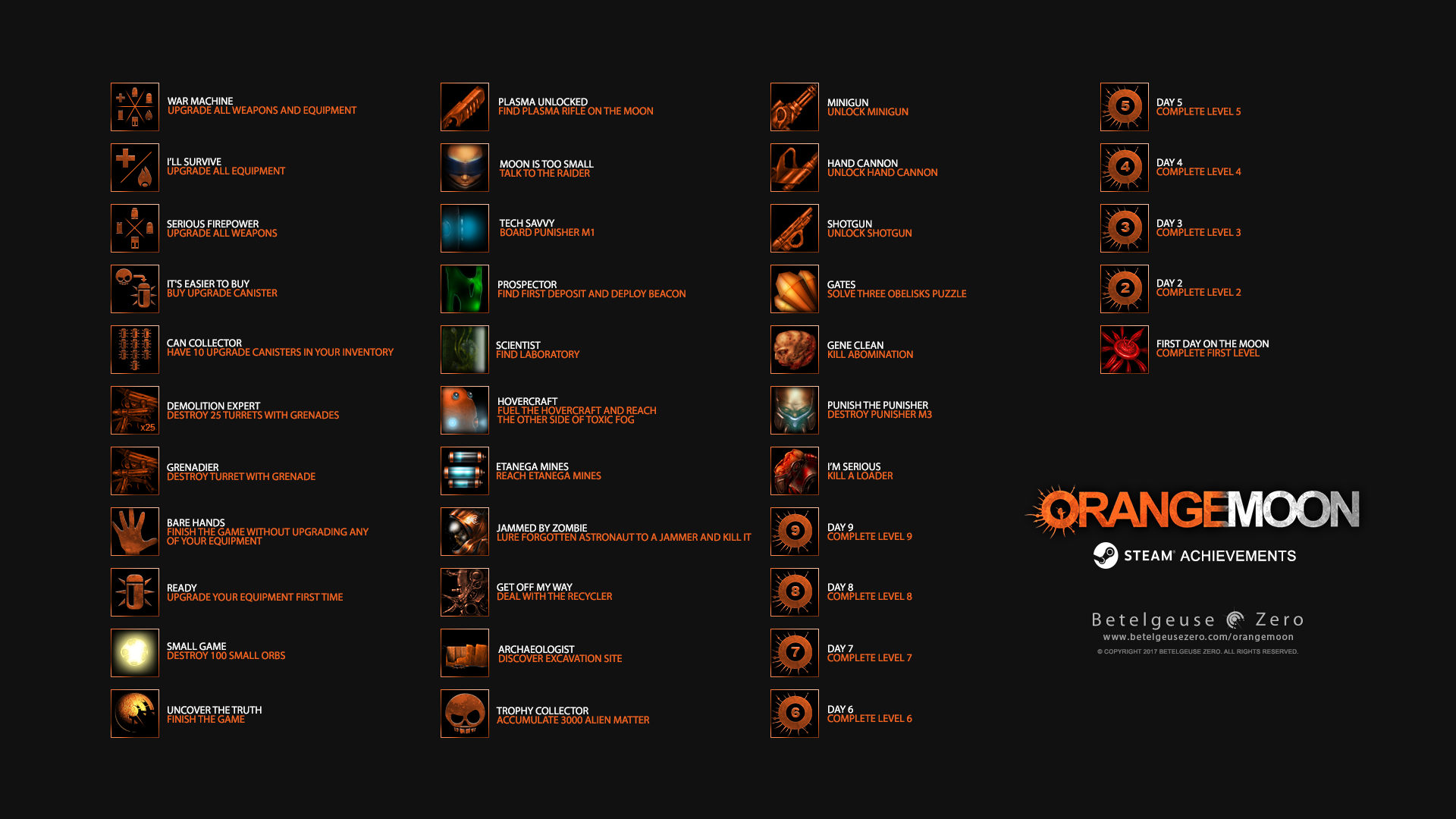 Check the new gameplay video of level 6 for this update and see how flamethrower works now:
This is the new channel, for Orange Moon only. More videos are coming, so feel free to subscribe.
New
Achievements;

Targeting flamethrower;

Killing MRC Trooper will award 100 alien matter;

Added hovercraft puzzle highlight hint;

Inventory icons added for Recycler's gear key, broken teleporter part, hovercraft fuel, and fuel stones;

Added items and ammo containers to Maintenance Tunnels on 5th level.
Bugs fixed
Fixed end level camera on 3rd level moving the wrong direction;

Fixed - Hovercraft cannot be fueled if there are more than one Hovercraft fuels collected;

Fixed - Toxic clouds didnt do damage to player;

Hovercraft could be boarded after fueling even if player was far away from it;

Secret location on level 6 can now be reached with one bot and fully cleared with two;

Fixed - Grenade cap will change status to "Fully Upgraded" when maxed;

Fixed Hand cannon second upgrade appearance.
About Orange Moon
Orange Moon, 2d action platformer game with RPG elements and puzzles, full of dangerous native life forms, raiders, remnants of alien civilization and harsh environments. Search for a new life and natural resources, deploy beacons for mining drones, and find ancient alien artifacts that will help you in your exploration of Orange Moon. Augment your explorer to make him suitable for upcoming challenges, upgrade weapons and ammunition with ancient alien technologies and materials that you'll find in your journey.