Cogmind's game options were first covered in a post last year, but the selection has since expanded, and because their number has grown closer to what will be their final state, I went ahead and implemented the in-game interface which I'll be introducing here.
My original intent was to add a new top-level options menu accessed from the primary game screen--there is no separate "main menu" as many games have, since Cogmind does away with as many immersion-breaking elements and presentation styles as possible.
It was both easier and made more sense to add "options" as another page in the "help/manual" system. That system in general is accessed via F1, F12, '?', or a button in the bottom-right corner of the screen. The fourth page is now animated and can easily be expanded with more options if necessary.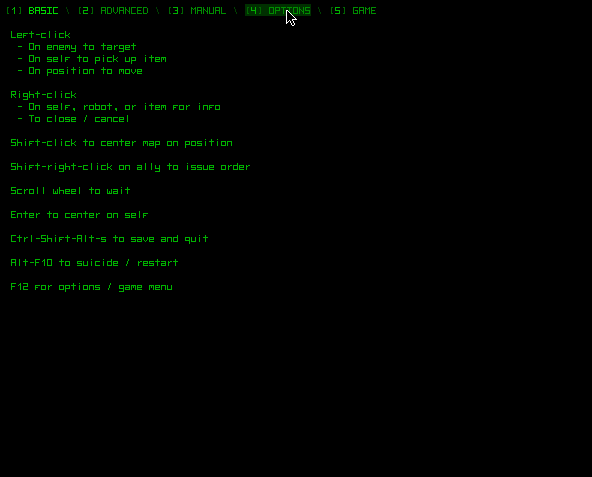 Switching from the basic commands/help page to the options page and choosing a few options. (Click to view in crisp native scale.)
Notice that as the cursor hovers over an option, a description of that option appears at the bottom. Surprisingly few games provide this information while changing options, a situation that frequently annoys me since option names alone are not always sufficient to describe how they affect the game or interface. Even for those options with obvious effects, this can be a good place to convey extra information in a context-relevant manner.
Any changes made are saved to a text file in case you want to copy that file elsewhere, or make changes directly to the file itself (there are a handful of rarely-modified options, like drag-drop detection delay, that don't appear in the options menu). That same file also stores information regarding the state in which you last used the interface, e.g. which multi-console window was in use, the part info visualization mode, etc.

The latest cogmind.cfg.
Restart / Quit
In case you ever want to stop playing (nooooooooo...), there is a new set of buttons accessed via another new page in the menu system. In addition to the options menu, these contain the remaining functions common to a traditional "main menu."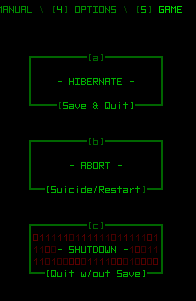 Save & Quit, Restart, or Quit without Save. (The buttons are animated while hovering over them, hence the 0/1 background caught in this screenshot.)