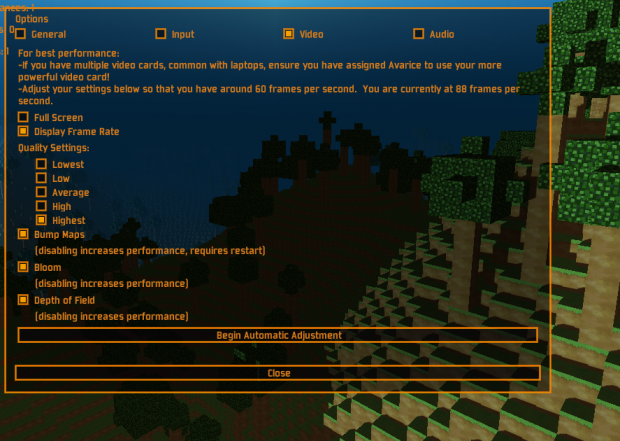 The last two days I have been reading some feedback, specifically that some young kids had reported some "lag" while playing. I have tested Avarice on literally hundreds of computers. The primary causes for graphical lag have been:
1. Wrong video card, for laptops with a "power saving" video card and a powerful video card.
2. Never thought to look at the settings.
3. Not full screen when in web player.
Number one is particularly tough for a number of reasons. For one, I never had seen a laptop with dual video cards before, haha. I had no clue such things even existed! I had one person showing me their low frame rate on their fancy Alienware laptop, out of about thirty people, where not a single other person had reported a problem. I had no clue why their laptop would have such troubles while lesser computers were not. Months later, he says he figured it out: his computer had not detected that Avarice was a game that "needed a the powerful video card."
Many months later, I actually bought myself a laptop, and... it has the same dual video card fun. Now I got to witness it by hand. And jeezus, it's annoying. It does not even detect my developing software as "needing the real video card." And it does not assume to use the "real video card" if I am plugged in either (that may make sense, another discussion for another time).
Long story short, all of the above issues usually need or should have the USER to do something. And we, as game developers, can ultimately only "nudge" the user to do things.
In the meantime, this is what I got:
On web player, a pop-up window asks the user to switch to full screen. The funny thing is, with laptops with dual video cards... this actually makes things worse. Gah. There has to be a way to detect this dual video card business.
In the options screen, it tells the user to ensure they are on the right video card. I showed this to one of my artists... and he was clueless what this meant. Not a good sign. Hopefully those with such laptop configurations will understand...
In options, it displays the frame rate and suggests to the user to tweak the settings. In the background, is renders an elaborate environment so that the frame rate is reflective of game play. I am tempted to throw in some random ships battling, but I have more important things to do :-P.
I also added an auto-adjust button. It's simple, it simply starts at highest, checks the frame rate, goes down a notch, checks the frame rate, wash, rinse, repeat.
Eventually, I can force the user to go through an auto-configure the first time the run the game. I can also make pop-up messages that tell the user to reduce their settings when they have a low frame rate. Maybe I'm just old school and assume it's the responsibility of the user to tweak... but times have changed, haven't they? What do you guys think?
All this pop-up stuff reminds me of this video: Youtube.com with the annoying pop-ups :-P.
I wrote a lot more than I expected, haha. Enjoy :-P.
Learn more about Avarice, and play the demo, at Zooptek.net!