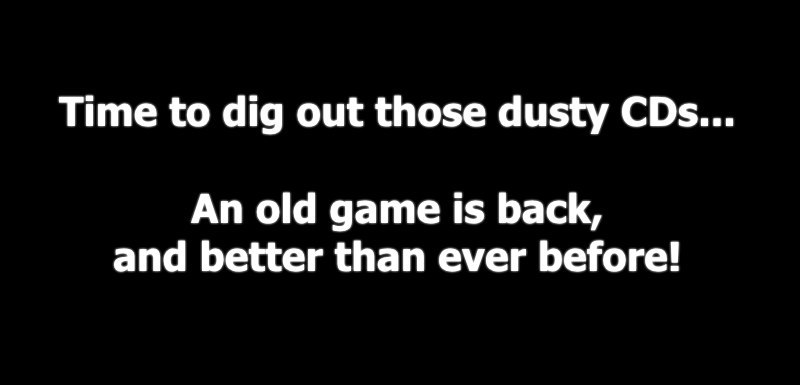 Merry Christmas to everyone! (Or Happy Holidays if you prefer.)
I've been holding onto this secret for over a month now and letting everyone think that Operation Remembrance wasn't going to come out until January, but I've been planning for a Christmas release as a surprise gift for everyone, and here it is. You can find the download right here: Moddb.com. For anyone who wants to play but doesn't have the original game, you should be able to download it here: Oldgamesdownload.com. I haven't personally tested this download but I've been told it works. You'll need to find a valid CD key to play online but you can play singleplayer without one. To get a CD key, head over to HelloClan.eu or the HelloClan Discord server and ask for "IceSkater". HelloClan also has a patched BfVietnam.exe file that will fix the in-game server list.
I have to admit that I'm really not sure what to say at this point. Even though it's been nine years, it feels like it wasn't that long ago that I started messing around with the files for Battlefield Vietnam and first starting to edit them. Actually, I think I should share the funny story of how I started modding. My brother had the Redux (set of four disks) version of Battlefield Vietnam and used to play it when I was younger. Then he stopped playing, but I remembered the game. When I was thirteen, I asked if I could have it. He did the installation for me, but just installed the game, not the modding tools. Fast-forward a few months and I found out about the four maps released in V1.1 and V1.2 of BfV. In my thirteen year-old wisdom, I decided that I needed to have these extra four maps to play at all costs. But what I didn't realize at the time is that they were multiplayer only and so wouldn't show up in the singleplayer menu, which was all I played. So I tried downloading several different patches to upgrade my game to 1.21, each time getting more frustrated when the patcher finished and the maps still didn't appear in my list. I never realized that having the Redux version of the game meant I already had those maps, I just couldn't play them. In my annoyance, I tried reinstalling the game, and that's when I found the modding tools. I decided to install them out of curiosity, started looking around in the files and seeing what I could change, and nine years later... Here we are. Yep, that's right. Operation Remembrance all came about because of a thirteen year-old kid's stupidity. It still amazes me how much I've changed and how much my experimental, haphazard modding has changed since then.
I'm incredibly proud of what I've managed to do, but I have to give a lot of credit to the developers of other mods like Forgotten Hope and Forgotten Hope Secret Weapons from Battlefield 1942 and Arsenal, Battlegroup Vietnam, and Point of Existence for Battlefield Vietnam. I've used quite a bit of material from these mods and Operation Remembrance wouldn't be what it is today without them. I'm also extremely grateful to all of my supporters here on ModDB and elsewhere, especially "TanTwo" on YouTube, who was the first person to make a video about Operation Remembrance shortly after I started posting about it on ModDB. You've all been a wonderful inspiration and motivation to keep going and get this mod out. I really didn't think anyone would notice it so long after the game's release, but the following I've received has proved otherwise, and I can't thank you all enough.
If I could ask one thing of everyone in return, it would be: send constructive criticism. PLEASE. It's one thing for me to make a mod that I like, but players are a modder's lifeblood. If you notice a bug, whether it's something that causes the game to crash or something that doesn't look right or function correctly, please leave a comment or send me a message so I can fix it. If you think there's a feature or something that could be done better or something else you'd like to see in the future, let me know. I want to make Operation Remembrance into something that everyone can enjoy and I also want everyone to feel they're free to talk to me and send feedback.
I guess at this point all that's left is to talk about the future. Operation Remembrance isn't planned to be a "one release" mod. I do consider this first version to be a full release, but there are updates planned. I did have a unofficial "roadmap" of sorts written in a previous article that outlined what was going to be in each update but changes in plans mean that some of the features intended to come out in V1.1 and 1.2 have been released earlier while other features intended for 1.1 or 1.2 might get switched around between the two versions. All I can say for sure is that there will be at least one large update for Operation Remembrance and possibly a second. Expect new weapons, vehicles, maps, and at least two new factions: the French and the Viet Minh. While there are certain things beyond my capabilities as a modder, if I can get some skilled, experienced people working with me, there might be even more, like the South Korean faction.
But Operation Remembrance also isn't the only thing in my life. In addition to work, my marriage, and all the other wonderful things that come with everyday life, I have other fan projects to work on including my wife's series of fanfiction books set in the "Alien" franchise (I edit and help her with the writing itself, and have written one book in the series myself) and I'm also planning to start a Stargate fanfiction series. I'd like to devote more time to these for a while, so my plan now is to take a break from Operation Remembrance for several months and focus on them. I'll probably start up development of V1.1 sometime in spring of 2022, so I can't be sure when the next update will be out, but I'll keep everyone up to date with articles so all of you know what's going on. Until then, I hope you enjoy Operation Remembrance.