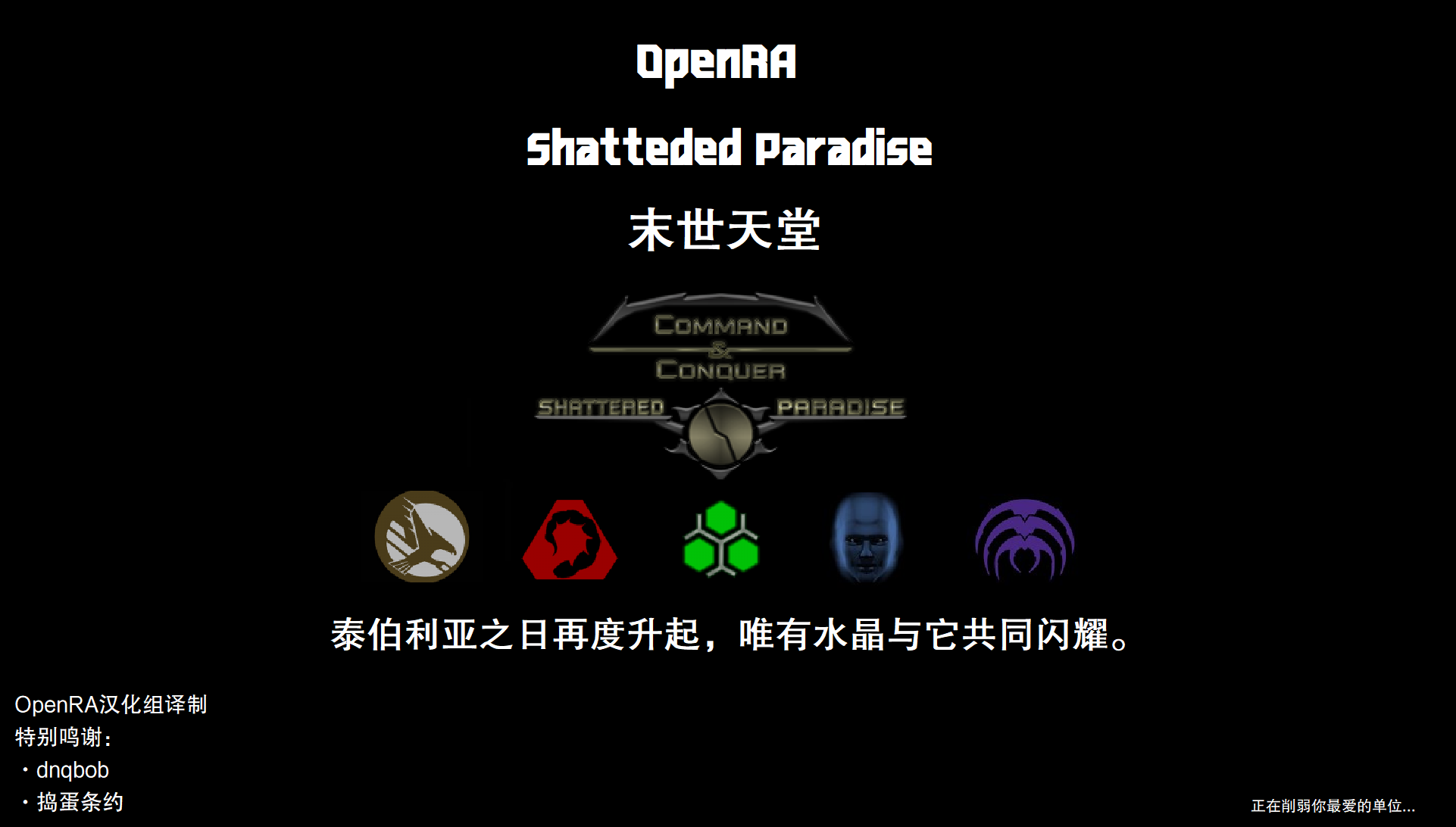 Hi~
The name is Hans, one of the leaders of the OpenRA Chinese Localization Team.
I would like to introduce our new release of our team. It's OpenRA Shattered Paradise Simplified Chinese, the SPSC.
Actually, the first SP release we translated was SP released-20190623, but we thought that was only a test, a try of localizing SP. As the result, the new SP release-20200210 is now the first SP release being truely localized by our team.
So, thank you all SP guys, thank you for your great mod!
By the way, that Chinese sentence under the 5 faction logo is written by me, meaning, "Only shining with the crystals, the Tiberian Sun rising again."; and the right corner is the translation of "Nerfing your favourite unit..."
---
Let me introduce our progress then.
We did almost as perfect as we had done in RASC. Most texts in game have been transalated into Chinese. Here are ingame pirctures with intro.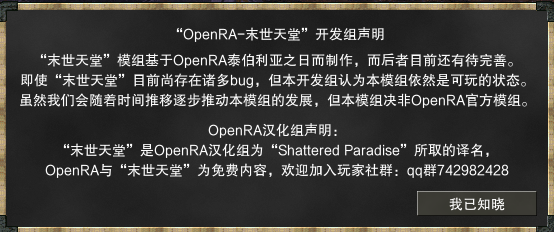 This is the preloading announcement of SP, we translated it and added our team's own ones to help players get into our community.
---
These are CABAL campaign and map choose in gamelobby. Each map has been given a Chinese name according to it's origin one.
---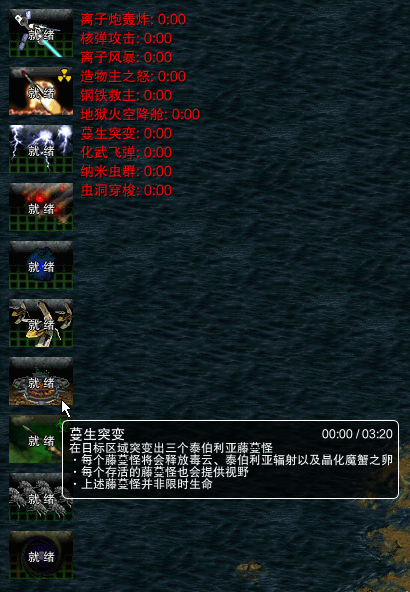 These are superweapons and unit's tooltips. We have written a unque quote for each heroic unit, and as for MKII showing in the screenshot, it's "The proud and glory of GDI!". I think these kind of quotes could make Chinese players feel that "wow, it's really a cool and special unit".
---

Finally, it's the spectator UI translation. We also did that in RASC, by thinking we might have a great chance to held some OpenRA matches or even a league in China with the localized version.
---
Well, that's all for this news.
As the game data and many other ingame things are absolutely same with the origin SP-20200210, I wouldn't like to talk about that.
For the Chinese readers, please join in the qq channel showed in the picture above.
By the way, thought we do have a mac and linux version/installer, we would not like to upload it here. We would only upload the basic windows installer with x86 and x64.
One more time, thank you guys, all of you supporting and caring our localization team, thank you!
And special thanks to the OpenRA offical team and the SP team, thank you!


---
OpenRA Chinese Localization Team
HansNilhall
Shanghai, China
2020.03.02