OpenArena Progress Report #1
2009-09-05
OpenArena 0.8.1 was released almost last year in October 2008 and things haven't really been steady since. For one thing, i'm left as the only player modeler and animator remaining, and there has been no new player voice contributions since 2007. This makes progress slow and tiring and worst of all, lacking in morale to continue.
So to counter this, I hope to speed things up by driving hype for the next release by showing what things that have been accomplished since the last release.
Now with more fat and calories
For 0.9.0 we're trying to give things a more sleeker 'reboot' in the style. Josh redesigned the OA logo to be more compact, visible in longer ranges and smaller sizes, and looking more round. It is the logo you see in the news post itself, as well as here: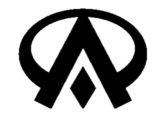 This logo will replace the current logo in the next release. It's cool.
Ooh, shiny ones
One graphics feature we've been trying out is specular lighting. The engine has had it for over 10 years, but it was hardly implemented in any of the games. It's not normal mapping or gloss, but it does bring out more volume than just a standard diffuse light. This is no special shader modern cards only can support - in theory, the 3dfx Voodoo card sleeping up in your attic should be fully capable do this. It should not bring slow down, as any multi-texture capable card should go process the specular in one pass, as it's the second layer of the skin.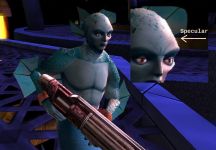 One of the big goals of 0.9.0 is to remake two female player models - Major and Ayumi. The big faults of these models is that they're poorly rigged, poorly animated, and poorly skinned. Super bright Major runs with rigormortis and Ayumi does what appears to be picking her nose by breaking her own shoulder while having a unconvincing wig for hair. Despite these bugs, they're very popular models to use online, and since my efforts on them years ago were a crappy one, i'm stuck by myself to redo those as well as create some new male characters for 0.9.0.
Sorceress was meant to be a generic female mesh and rig for all 3 of these models, but she came with a host of her own problems involving animation. This last section is probably a bit of a personal rant and plea, but I just suck at animation, or at least have a big weakness for the shoulders and elbow joints. :) Due to the license (GPL v2) I can not use third-party motion capture data or any other external animation that's available, so my 'scavenge options' are zilch.
If you use Blender and can animate humanoids no problem, feel free to contribute and help me out.
Coming Up Next Week: Promotions! And MAPS