In this update, before elaborating further on our RPG features, we want to address a common question: Will the game and level design be linear/open-world/Metroidvania/hub-based?
To illustrate this, here is a current version of the city map: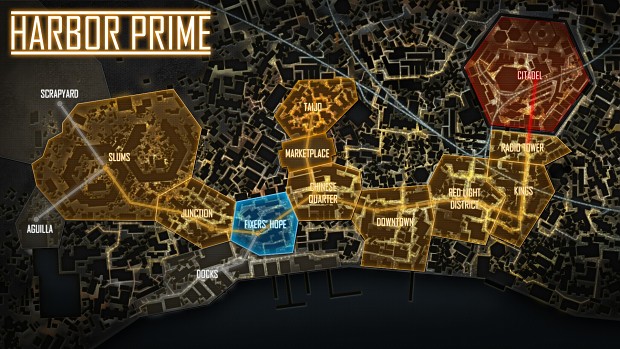 Images tell more than words, but still, let me clarify: Dex is a semi-open world RPG. Our aim was artistic – a vision we felt compelled to bring to life. We wanted to create a living, thriving cyberpunk city in 2D artwork and animation. Of course, comparing Dex with monster-budget AAA open-world games such as the ingenious Elder Scrolls series is not appropriate. But still, we feel we can give birth to something truly remarkable and unique.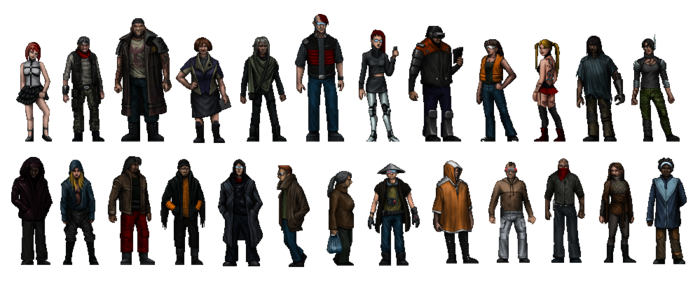 Our gameplay and level design idea:

Create a living 2D city with shops, NPCs, markets, corporate headquarters, slums, etc. Everything you expect from a cyberpunk world.
The game world is divided into locations. The transition is not seamless – it is not one huge open world, but rather, dozens of connected locations.
You can visit locations repeatedly. (There are certain exceptions, story-wise.) This works pretty well with the RPG features, such as implants – you acquire an implant for high jump, for example, and you remember that in one abandoned power plant there was an intriguing platform you were unable to reach. You return there now, with the newly acquired implant, and you are able to access a new area.
In the city center is a hub – a series of interconnected locations. There is only occasional violence here, so these locations serve mostly as a "safe house." You can return there in between missions, to get new missions, to find out more information, to buy stuff, etc.
The city is open to exploration. Yes, there is a story and there are side missions, but there are also locations no one will guide you to – no GUI markers, no quest markers. Some of these locations are hidden in the city or in the underground; some are simply side exits or rooftop entrances. Explorers, enjoy!
We are also considering some typical sandbox/open world features (a kickboxing arena, where you can train or join tournaments; casinos, where you can play various mini-games, etc.), but we are not quite sure whether or not to include these (considering both development time and the overall feeling and gameplay). Let us know your suggestions!
Storytelling is mostly linear, with several possible endings. However, you can choose to do missions in your own order (where applicable), plus there is a large selection of side missions, most of which are independent of the main storyline. The levels themselves are linear in the sense that there is one clear goal, but non-linear in the sense that there are multiple possible approaches (mainly action/stealth/hacking, as addressed before).
Stay tuned! We have more updates to come, with interesting concepts, screenshots, and other fun stuff. If you like the game, consider backing us and sharing Dex with your friends!

Dex Kickstarter: Kickstarter.com
Dex Website: Dex-rpg.com