Hello everyone, Abyssinian here again. As you've probably all have seen already I've added a lot of images since the last update. I hope you enjoyed them. Today I'm here to show you three new models. First of, the ONI Prowler. Designed to gather intel and stay in the shadows. It is ONI's main ship class as it had it's own division.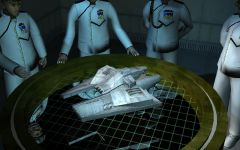 Second, I present to you the ONI Research Station. Build to study alien objects and all kinds of highly classified tests and projects, the ONI Research Station is the reason why ships have most of their technology it has today.

ONI's long-range sensors have picked up a large unknown object. Too large to be a station and too small to be a planet. Here is the only available image:

It's my WiP of High Charity. The model was rather easy to do, but the texture is proving to be a real pain. I've got some people helping me out with the final part (the top) but any help would be appreciated as I want to finish this as soon as possible and having options is never bad. Should you be interrested in helping out please send me a personal message here or at H:FO's forum.
I hope to be back soon to show you more models.
Regards,
Abyssinian