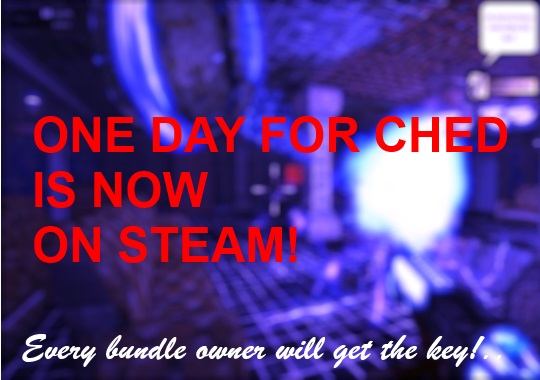 The new version is now on Steam!
ONE DAY for Ched v.1.0.5 is now on Steam. It was a long way to finish it, long way to figure out how to make game better. Finally, ONE DAY for Ched v.1.0.5 is now on Steam. Thank you everyone who have supported us!
Coming on Steam was a dream for us for many years, and now it comes alive. This is an incredible moment and we want to share it with you! So, specially for you we have a Special promotion with -15%!
So, be the first one to buy it! The deal will end on Sept. 19th.
As we said, it was a long way to finish this work. We had to recompile all the game code again to make it look more and more optimized. We had changed the graphics level, so the decals and textures are now even more optimized as well as high quality. We had changed English in the game and have added some keyboard control app. Also, we had finally removed bug with not working "Q" button, bug with keyboard settings broke up, and bug with cutscene skipping.
So, here you are the changelog of ONE DAY for Ched v.1.0.5:
Changelog of ONE DAY for Ched v.1.0.5
- Fixed the keyboard problem
- Fixed the "Q" button bug
- Fixed the cutscenes skipping bug
- Added the keyboard setting app
- Game optimization
- Graphic optimization
- Story changing
- English correction in the game
Buy ONE DAY for Ched now!
Here you can buy the game right now. BUY ONE DAY for CHED v.1.0.5 ON STEAM RIGHT NOW:
For those one's who bought it on the Bundles
Everyone, who have bought the game on Indie Gala, Indie Royal, Groupees, Playinjector, Bundle Bandits, DailyIndieGame and others: You must know, that you'll definitely get the key FOR FREE. Evevryone, who have bought ONE DAY for Ched on the bundle, will get the free Steam key, there's nothing to worry about.
So, support the game on Steam, buy it, play it and have fun!