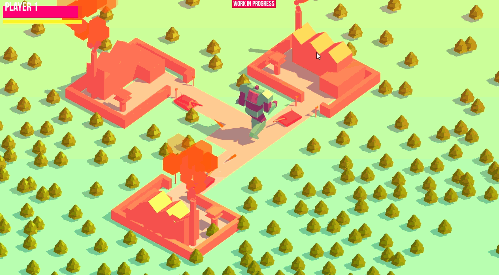 This is my first news, so: Hello world!
So, enemies like police cars, tanks and others spawn at their specific special buildings. Police cars at police stations, tanks at a military base, helicopters at another military base.
Two enemy types are in the game now. Police cars and tanks. Police cars are fast and shoot a lot of not so damaging fast bullets. Tanks are slow and shoot fewer more damaging slow bullets. Also fewer tanks get spawned. Right now every enemy production building has it's own fixed timer and produces every x seconds an enemy. Which is kinda stupid. What I'll do is create a city hall building, which handles where to spawn enemies. Like the next closest enemy production building to the player would be a lot smarter. If that city hall get's destroyed, they will spawn at dumber positions but more often.
If you want to get a quick overview of the game have a look at these videos: