Blog post from my site (2-5-2015):
Most people who hang around this site probably know by now that I'm not a fan of GUI elements (the things you see on screen). This is one of the main reasons my game features just two inventory slots and why the crafting is so different from any other game. Today however, this ends.
A playtester came to me and told me that it was annoying he had to look up all of the recipes all the time. He suggested a screen where you could lookup the recipes in-game. First off, I wasn't a fan. This, because of two big reasons: 1) It's a GUI screen 2) I would have to write all recipes manually, as my system wasn't flexible enough at the time for a real-time readout.
However, yesterday, I was toying a bit with the new XP bar feature mentioned in my blog post yesterday. Every time you level, you now learn one or two (50% chance) randomly selected new recipe(s). So, I had played for a while in one level and today I wanted to continue. However, I totally forgot what recipes I'd learned!
It was time for a GUI screen which told me what I'd already learned and I thought I could nicely combine it with the old suggestion of one of my awesome playtesters. So, here's the result: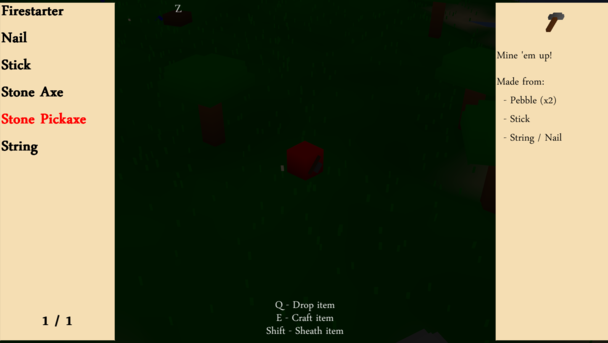 It's easily accessible by holding the R key (for Recipes). You can use W, S, up arrow, down arrow or the mouse wheel to select the item you want to know more about. It'll then give you a usefull (and by that I mean 'utterly useless') description of the item, together with how it looks when holding it. Below it, you can find all the things you need to craft yourself that item.
I might adjust it a bit. Maybe a lot. I'll see what I'll do with it. Anyhow, it's certainly a nice addition to know which recipes you have already learned and how to craft the items that you can craft. It keeps you off the wiki (which doesn't exist, but just pretend there is one) and keeps you emerged with the world.
So, what have we learned today? Playtesters are valuable! Oh, and of course, sometimes GUI is the way out. But only sometimes... maybe... perhaps...