Of Guards and Thieves - Update r.79.2
Note: this is part of a series of updates with lots of changes under the hood that we need to test in order to proceed with the r.80.x release.



Hi guys,
Update r.79.2 is now available
Main changes
New VFX - Muzzle Flash, smoke effect for weapons, projectiles shell emission
*Note, Muzzle Flash effect is present only with non-silenced weapons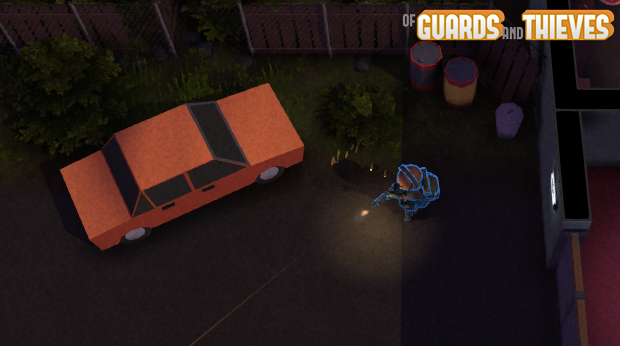 New VFX - Improved hit particles effect
*The new hit effect on environment is not visible in dark areas
*Environment Hit effects depends on weapons type, there are 3 different effect type
*Being fired/stabbed inside a bush do not reveal your position easly anymore
*Being fired/stabbed in dark area do not reveal yout position easly anymore
*Added Blood effect on ground when you're hit, blood trace on the ground can be used as tactical information (bleed affect disappear in 4-5 seconds)
*Blood effects depends on weapons type, there are 5 different effect type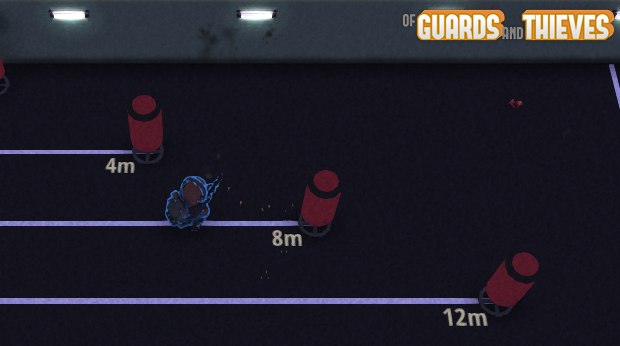 New Profile Menu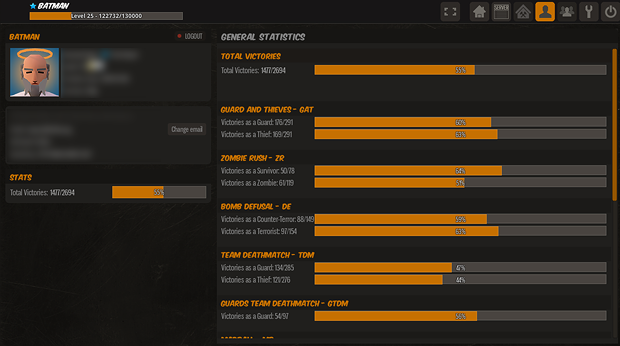 UI Email setup menu for Steam users
*Now game ask to setup an email if you have not set yet
*You can change your mail inside the Profile menu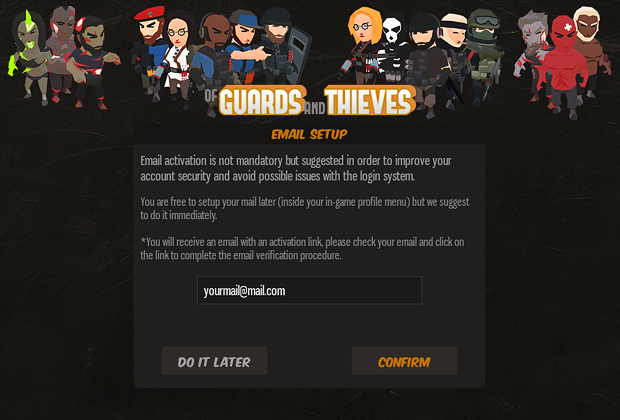 New Loading screen with random hint, filtered by gamemode/team/map/level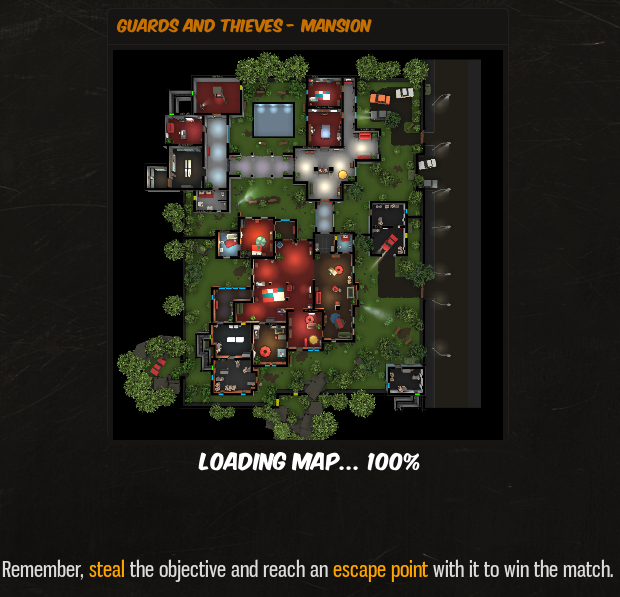 OGAT Updates r.78.4 to 79.2 complete changelog
OGAT r.78.4 changelog
NEW VFX: Muzzle Flash + smoke effect for weapons
NEW VFX: Projectiles shell emission with physics when shooting
Little improvements to trail renderer for bullets
Reworked Melee hit scan system
Lot of changes for Map Editor server side networking code
FIX - Wrong weapons assigment on death (Polaroid+Death Log)
Reworked Yellow Passage hit scan detection
Lower polaroid sound on death (-50% volume)
FIX: Wrong slowdown effect with not broken windows
FIX: Terrains collision height
FIX: Weird bug with windows hit detection
FIX: Stab/Shot when character adherent to Walls
RIP Halloween decorations
OGAT r.78.5 changelog
NEW VFX: New and improved Blood Effect
NEW VFX: New Hit effect for environment
Supports for multiple contemporary hit particles
FIX: Wrong bullet rotation for Parabellum projectiles
FIX: Melee Hit scan for Big Brain fixed
FIX: Caltrop are no longer invisible
OGAT r.78.6 changelog
New VFX effect for Railgun (IG modes)
FIX: No more invincible Big Brain in Zombie Rush mode
Pumpkin ball for Soccer removed
Reduced Backward speed malus for Sandbox mode classes
Hit Environment VFX improvements
Pump-Action Shotgun rebalance: Less distance damage falloff
FIX: Wrong Slowdown effect for windows on RiverCity map
UI Email setup menu
Friend List is now alphabetically ordered
FIX: Stuttering audio fixed
FIX: Wrong objective message for Guards in GaT.
OGAT r.78.7 changelog
Improved Caltrop collision
FIX: Office C1 Big Brain fixed
UI Email setup menu for Steam users
Reduced volume for MadBall explosions
Optimized collision for all particles effect
Optimized performance for Zombie related VFX
Unified M4 Magazine type (compact MAG no longer 'available, standard MAG with 20 bullets are now used for every M4 variants)
OGAT r.79.0 changelog
New Loading screen with random hint, filtered by gamemode/team/map/level
Free Class with level unlock for "Free To Play" users
Automatic Class unlock for "Gold" users
Pop-up for locked class with requirements
Free Avatars Guards and Thieves faction classes
FIX soccer sounds
OGAT r.79.1 changelog
Rewritten character movement netcode
Rewritten 2d sound system
New Personal Profile Menu v.1
Chat Beep sound replaced
OGAT r.79.2 changelog
New netcode fix and improvements
For any questions feel free to contact us on our official Discord Server or Community Forum.

DISCORD Official Server



Official Discord server is now available!
If you want to invite other players please use this link → Discord.gg
*Discord is available as Browser application and Standalone client for Win/Mac/Linux iOS and Android.
Check here to download the client - Discordapp.com


Official Community Forum → Subvertgames.com
Development roadmap board on Trello

OGAT Development roadmap is now available on Trello board.

HERE THE BOARD → Trello.com

Other helpful links:
Here the updates/changelog list: "Previous updates/changelog list"
Here the updates full articles list: "Full Updates Articles List"
Here the Actual game content list,
- "Actual game content list (Steam Forum)"
- "Actual game content list (Community Forum)"