Our update today focuses on the introduction of the standard class flitter for Offworld: Fall of Mars.
This ship will be our "jumping in" point to the story and history surrounding Offworld: Fall of Mars. I'll just spend this update introducing the ship and its features.
The Standard Class martian flitter is the most common work and transport vehicle on Mars.Originally designed and manufactured on earth, tens of thousands of the vehicles were packed away on each colony fleet. These multi purpose vehicle quickly became a ubiquitous commodity on Mars.
Often modified and multipurposed, all martian flitters share the same basic desgin and layout.
Engine and propulsion: Advanced magnetoplasmadynamic (AMPD) thrusters arranged around the ship control flight and are powered by a Heavy Litho-Titanium dense core battery pack. The battery pack is located at the rear of the vehicle and is secured to the parent ship by static charged magnetic bolts which can be activated to eject the battery pack in the event of a rupture, overheating or catastrophic failure.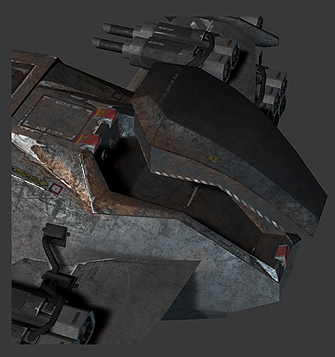 Weapons and Equipment: Each flitter has 7 hard attachment points which can be used to attach various accesories to enhance the ability of the colonist to perform various tasks.
Each winglett has 3 hard points (1-2) (upper/lower/outside edge) and there is an additional hard point in the nose of the vehicle. (3)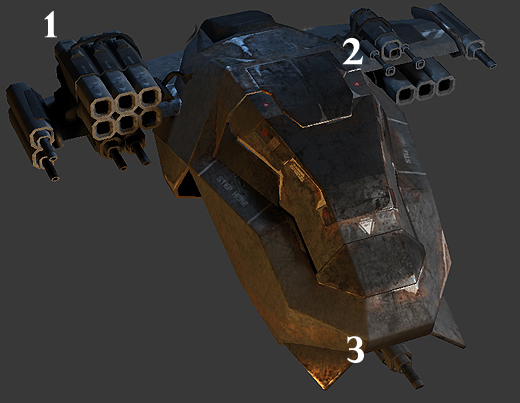 Each ship also contains 4 expansion modules located inside the ship that can be multipuroposed for storage or contain advanced power modules, control modules, ammunition, shield generatiors etc. General purpose weapon systems were created for the Martian marine force and quickly copied by the colony engineers and are commonly replicated on mars in black market workshops. They come in many forms with new tech developing all the time but the most common weapons are as follows:

Machine Guns: Fire solid element rounds of various compostions via magnetic-linear accelerators.
Missile Pods: Explosive rounds use a combination nickel magnesium fuel core to propel themselves and can sometimes contain limited guidance systems. These specialized rounds often are equiped with minor correction outlets which allow the rounds to make adjustments in flight.

EMP systems: Standrad EMP weapons can be used to disable electronic systems with explosive ranged charges. These less common systems have been found to be modified to enhance their effective radius to double or more the standard 25meter radius.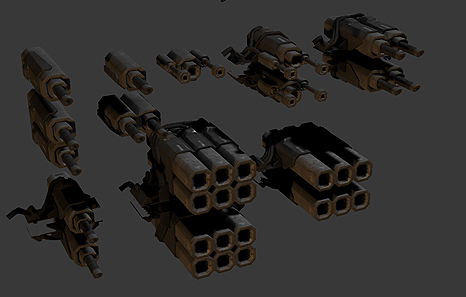 Other systems:
Docking clamps and interfaces:There are 2 docking clamps on the vehicle used when ships are in hangers or other forms of interface where the ship needs to be stabalized. They deploy from the top and bottom as needed and are often supplemented by clamps to the body and winglets.Some common interfaces are; repair and supply depots, hangers, turret defence systems and machinery interface cradles.(lifts, cranes, conveyers, security fire control etc)

Maglock systems: Each flitter comes standard issue with a Maglock attraction systems contained within the lower panels of the ship. this system can be used to "grab" various items in the martian environment and move them from one location to another.
And to finish off for a little fun. The ship progression from concept to finished product. This was modelled and textured by the great folks at Cerbebus studios. www.cerberussoftware.com
From left to right. 1. My first conept ship 2. Cerberus first concept based on my ideas 3. Cerberus final concept 4. finished Model and textures note: not sure if all can view this image..but right click and view at source if interested. :)

Thanks for all your time folks. Should be back with some environment work and some concept art in the near future.
Stay Red!
Irontaxi