THANK YOU ALL FOR SUPPORT!

You are awesome. You brought BF2142 to life

And now

YOU ARE ALLOWING TO REMASTER IT
BF2142 "project remaster" is getting closer to a release every day, so our team hope we can still count on your patient and we hope we wont disappoint you in the end.
Our team has expanded to 6 members just in one month time so we can create even more content then before. We have sound artist, great map designer, weapon modeler and experienced tester.
2,500 views in a single day and MODDB TOP5.
You guys probably really like the project. That's a tremendous encouragement for us! BF2142 have quite little community so such statics were surprising.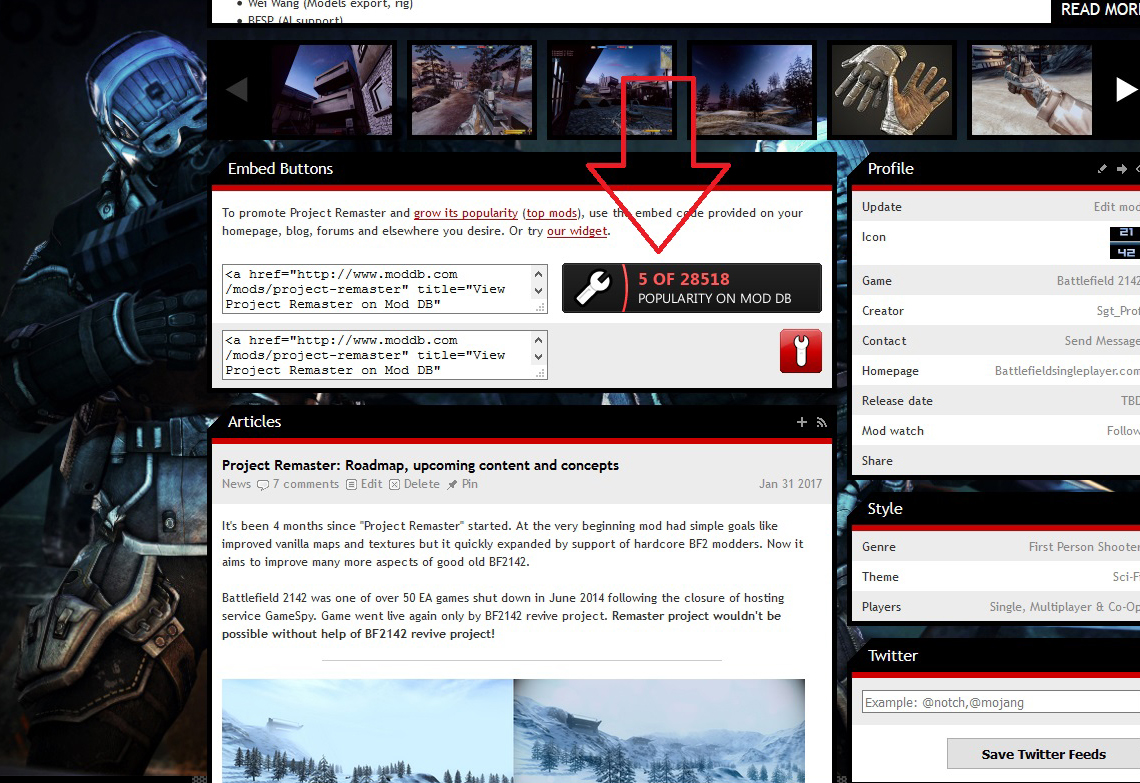 Offline kits customization update
That was the most tricky feature to implement into mod. But now player can almost fully customize kit not only including primary weapons but also some gadgets as well. Assault kit now have dynamic rocket add-on which fits your primary weapon. (In screenshot you can see EU assault class example). Weapon loadout has been changed as well. EU have Scar 11 and Bofors and their exclusive weapons; PAC got Krylov and Baur. Voss rifle is available for both fractions as the third weapon slot. System is shown in the video below, together with some new animations.
Map news
Our team made iconic Norther Strike map conversation - "Port Bavaria night". Basically it's the same Port Bavaria, but set during the night. Updated lighting is likely to affect gameplay because of dark areas, modified flag loadout. We also got some more map content but it will be shown latter.

What is more, Molokai map now have full AI support and conquest, co-op, singleplayer game modes. Every map also got new menu icons what are bigger and look better on high resolution monitors.
General updates
Added clark-15 shotgun for PAC which is almost the same as clark-15RDX just converted to normal shotgun with no sticky projectiles. It replaces clark-12 for PAC fraction only.
VRAM related crashing issues are now eliminated by better optimized HD textures. It's one of the most important updates.
Gunlist got updated, Bofors defense rifle is now included in kits customization and likely to get new animations. Rockets add-ons are likely to get new animations as well.
Consider supporting us on patreon.com as development of this mod cost some money.