Official Trailer:
First thing first: with the near release(IT'S HAPPENING!!) of Stella Bellum, a trailer was needed:
Now that it's done, the procrastination development is back at normal.
Even if the game still need some work:
Optimisation
Level Creation
Better Texture (Maybe)
Bugs removing
Stuff
Moar stuff...
I can say the game should be release in November. It will be release on itch.io
Neon Update:
A long time ago, in a galaxy far, far away, space was sober and boring. So light Bloom-postprocessing effects appeared. Even if it was prettier, something was still missing. So texture was replace, but it wasn't enough. So particle have been added. From that, more brightness and shine has been added, and it was gorgeous.
To sum up: The ship now fart blue lines: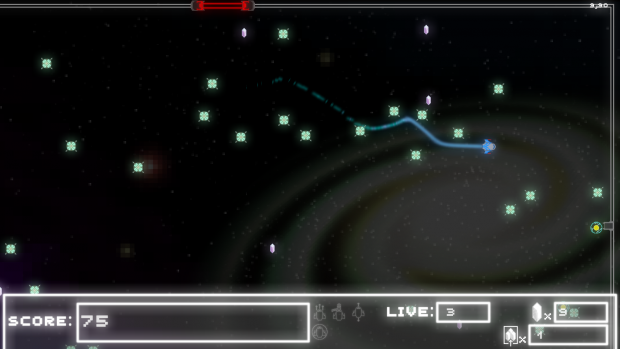 Particles are created from explosion, your ship and the asteroids(also, new textures
for the asteroids ) and they are attracted by black holes. Images Spam:
In addition to that, some texture has been redone, the randomness of the game is now working properly, the enemies's behavor are somewhat done and the game is now endless(after the hundredth level, algorithms shall randomly create the next level).
If you are interested in this game... well first, thanks, I'm flattered!
Seriously, if you are, try out the demo of Stella Bellum or/and feel free to leave a comment about your impression,ideas or just to report bugs.

Have a good day random stranger!