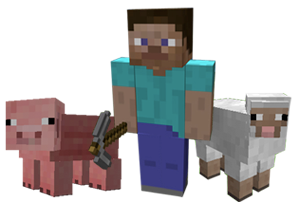 Markus Persson, founder of Mojang, the Swedish developer behind indie phenomenon Minecraft, has exclusively revealed to Gamasutra that an official iOS version of the hit game is currently in the works for iPhone and iPad.
The port is being developed by Aron Neiminen, a new recruit to the Mojang team, and will be released later this year.
Persson said that the iOS edition will not receive every update that the original browser and download version gets, but rather will be granted those features that "make sense" for the touch-screen platform.
The game has received numerous unofficial Minecraft releases on iPhone and iPad, but this is the first official iOS release from the Mojang team.
Minecraft is currently in the beta stages, with a full release planned sometime this year. So far over 1.3 million copies of the game have been purchased, with nearly five million registered accounts on the official site.
Gamasutra talked to Persson recently as part of the Road to the IGF series. The developer discussed his inspirations for Minecraft, including the likes of Dwarf Fortress, Rollercoaster Tycoon and Dungeon Keeper.
He said, "I knew from the start that I wanted it to be a fantasy resource-based first person adventure type of game, but it took quite a while to reach that point."