This is the BBC world service from Broadcasting House in London. The World News, at 0800 hours.
A Norwegian Cruiser has been seized off the coast of Former Estonia earlier this morning by Warships belonging to the Warsaw Pact.
According to Norwegian Military attaches, at least 37 crew are believed dead and the remainder are being held captive by Pact Security Personnel.
TASS, the Soviet Union's official state information service, claims that the Cruiser strayed into Pact sovereign waters, while Commonwealth Prime Minister Harold Wilson has described the act at the UN world parliament as a blatant act of piracy.
France and the United States have also condemned the incident, while the Norwegian Prime Minister today called for an international blockade of Leningrad and the Pact's other Baltic Sea ports.
In India, fights have broken out between pro-British unification supporters and Indian Separatists during a pro-Unification rally being held in Bombay.
Colonial police reckon that as many as 53 protestors have been killed, along with at least 3 Policemen.
Scores have been wounded and Victoria Terminus train station has been converted into a make-shift shelter for those injured during the violence.
According to the UN's Space Watchdog, NASA, there may be as many as 400 Pact Orbital Installations around the planet.
According to NASA's annual orbital report, many of these are Reconaissance facilities, though some do appear to be highly weaponised.
US Air Force Spokesman, Colonel Harvey claims that the report is simply an attempt at Fear-mongering and that the UN can handle any threat from Pact forces, whether from the Ground, Sea or Skies.
US Oil Giant, Petro-co, has been cleared of wrongdoing by the UN Supreme Court during last month's Gulf of Mexico Oil Spill that killed 5 people.
According to correspondents, the clean-up operation now underway may add up to some 50 Million Dollars, not including compensation, and with this latest verdict, Mexico is forced to pay the entirety of this sum.
Separatists have been protesting since the accident that Mexico has become a virtual client state to Petro-co, while Petro-co spokesmen vehemently deny this claim.
And finally, in a surprise result, the Mesopotamian Mandate football team has beaten the Pakistani team by a score of 3-2 in this morning's qualifier match for the Commonwealth Cup.
That means that the Mesopotamian team, known as the Baghdad Lions, go on to face Egypt in the Quarter Finals after Egypt beat the Palestinian Mandate 2-nil yesterday.
Egypt's team, the Nile Crocodiles, remain unbeaten this season, with Coach Denton claiming that the Baghdad Lions pose no challenge, something heartily refuted by the Lions.
That was the news roundup at 0800 hours. The next news bulletin will follow in one hour. In the meantime, there follows the local weather forecast for your region. Good morning.
We here at Red March have been a little quiet recently, due mostly to our assistance with the After Reset RPG team who we thoroughly encourage you to investigate. Progress has been slow, but we are still here and Watcher and I thought we would give you guys a little lore update in the style of a news bulletin, please tell us if you like this format and would like to see more of it in the future, I am more than happy to voice more.
A couple of images for you today as well: a UN mobile howitzer (Designation pending) drawn by TheXHS,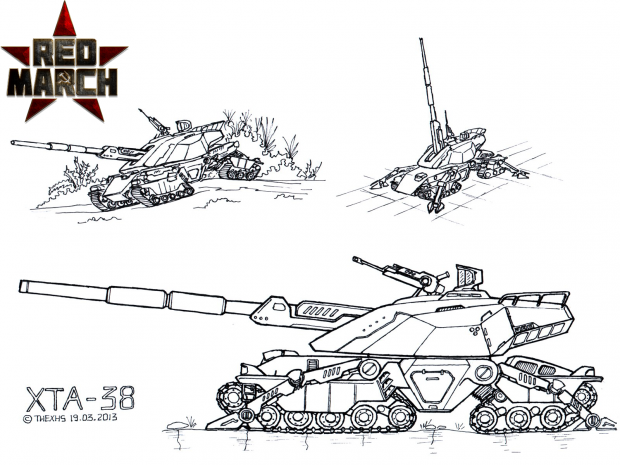 And the Pact Su-23 Fighter Bomber, also by TheXHS.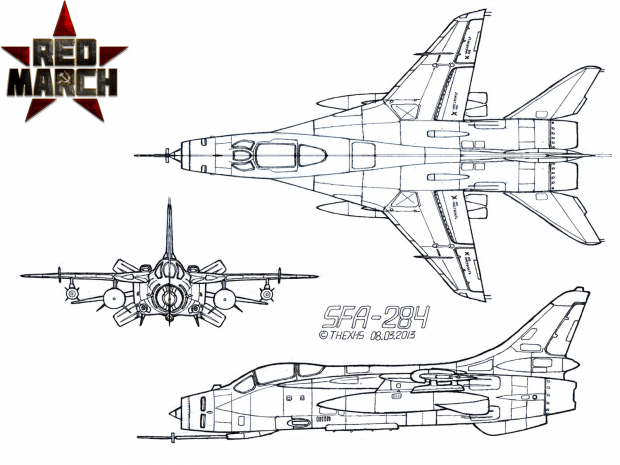 We hope you enjoy this little snippet of the Red March universe and encourage you to continue Marching. Good things will follow, Comrades!