Last weekend the Observatorium team - Clive Lawrence, Jonathan McEnroe and Peter Satera - travelled to Dundee, UK, to showcase a pre-alpha demo of Observatorium at the Dare to be Digital 2015 Indie Games Showcase. The event - hosted by the University of Abertay - is an unmissable experience for gamers and developers across Scotland and beyond.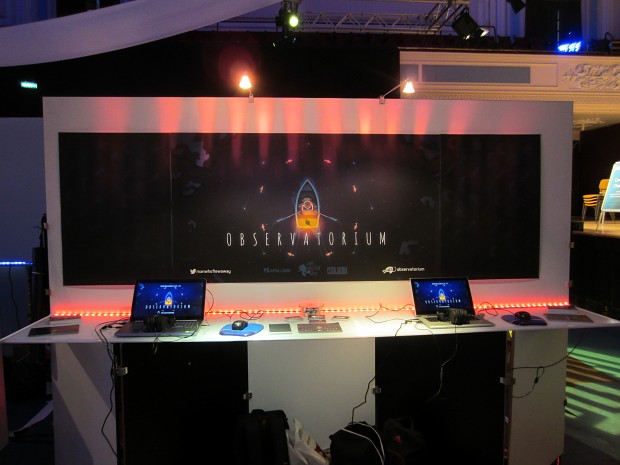 Demo and Setup
We attended Dare 2014 with a very early demo of Observatorium: back then the mechanics were quite different and the levels/gameplay/story felt disconnected. For Dare 2015, we wanted to present a more coherent experience so we opted for a small demo containing 2 out of 12 chapters from the main game. We moved some story/gameplay elements from other chapters to improve coherency. Our primary aim for the weekend was to get feedback on general gameplay/story whilst focusing on any flow/difficulty issues.
We arrived into Dundee at 9am on Saturday and made our way to the Caird Hall where we prepped our stall with 2 laptops, 3 posters and various handouts (flyers, business cards and badges) ready for opening at 10am.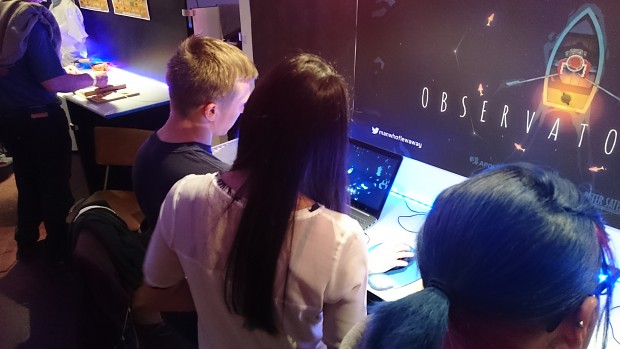 Showcase
The showcase went incredibly well: over the weekend we had hundreds of players try Observatorium - from children 10 and under to adults 50 and over. The majority of our testers really warmed to the world/story we had crafted and especially loved the art/sound and we got some positive responses via social media: this was a great feeling for us as we felt our deeper themes were starting to come through. We also managed to gather some press contacts which should provide useful as we push closer towards release.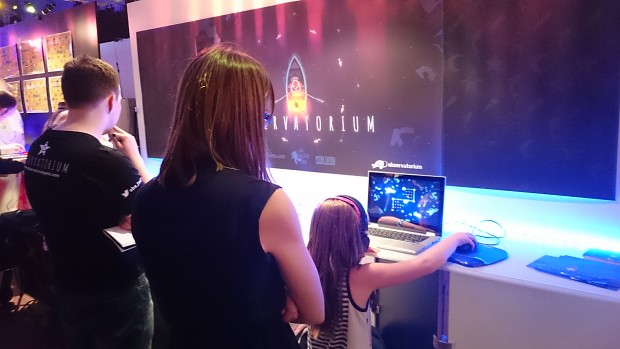 The puzzles included in the demo showcased a range of difficulties to test where the natural dropping off points would be. In Observatorium we don't ever tell players how to solve puzzles aside from the prompts (1) LMB = connect stars and (2) RMB = catch fish. Most of our gameplay comes from experimentation and working out the synergy between stars and sea-life which we hope to convey via visual and audio cues. Some of our testers commented on the fact they loved that "eureka" moment when they finally solved the puzzle but when designing your game like this, training/progression become even more important.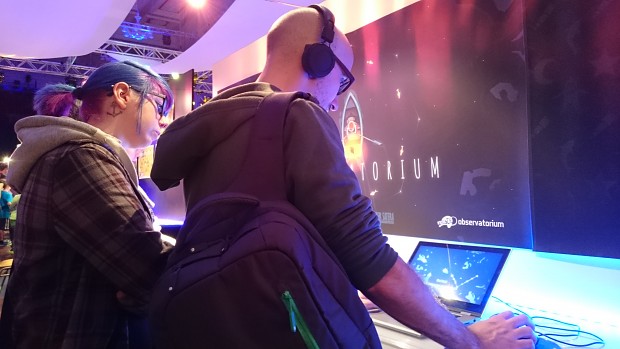 We did start to see a few common issues bubble to the top: some puzzles that passed our earlier playtests with smaller groups of testers proved to be points of contention now the game was in front of a larger - and more varied - audience. We began highlighting areas where the difficulty ramped too quickly, areas where we may need intermediate puzzles or areas where we may need to look at enhancing audio/visual feedback. This information is incredibly useful and will help us polish the game further as we push forward.
Feedback
Post-Dare, we spent a few days collating, analysing and prioritising our feedback. Presently, we are working to address the most common issues whilst rolling this feedback out to other chapters. Our plan for Observatorium was always to branch the progression somehow - to prevent players from hitting a wall in the progression - and this is something we'll be working into for future demos.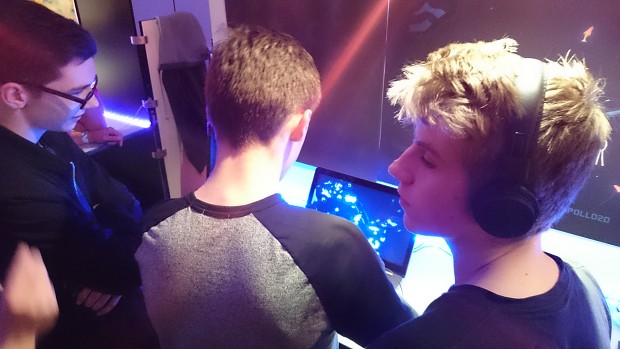 Following our Dare 2015 showcase, the Observatorium Team are planning to organise more frequent group test sessions as we feel (1) this is the format that best suits our game/development style and (2) we're now at a stage where we're keen to talk about the game more frequently/publicly. We're currently in talks with groups of friends in addition to various venues across Scotland to discuss future demo opportunities.
Other Games to Check Out
Although it was a busy weekend, we had a chance to take some time to play some of the other awesome games on display. Below, Clive picks a few of his favourites from the Indie Games Showcase:
(1) To-Tum by Insert Imagination (Twitter)
This devilishly simple mobile puzzler has you rotating the level to guide a falling object through a maze of perpendicular pipes whilst collecting bonuses and interacting with valves/buttons. The Insert Imagination team were previously contestants at Dare 2014 (back then To-Tum was named 'Kuria') so it was great to see the team were still in touch and pushing this to completion.
(2) Hue by Fiddlesticks (Official Website)
In this clever puzzle-platformer set in a black and white world, you control a boy - called Hue - using the left stick and choose the background colour using a colour wheel mapped to the right stick. Choosing a colour causes objects of the same colour to disappear and this forms the basis of the games puzzles. I felt like I knew the controls within about 10 seconds but the depth of the game world was incredible. Clever stuff indeed and by the lovely folks who brought us QUBE.
(3) Mutiny by Hidden Armada (Steam Greenlight Page)
The queue for this game was surreal but once you see it in action you can understand why: 2 teams, 2 ships, 16 player support, dynamic level layouts, competitive and co-operate play, a host of pirate-related activities and a mad fight to steal the Captain's hat (leading to much hilarity). This one has hit written all over it.
(4) Glitchspace by Space Budgie (Steam Early Access Pag)
A first person puzzle game where you navigate a simplistic world and interact with certain elements via a visual scripting interface which can be accessed at various control points. It struck me as semi-educational but it was so stylish and well presented that it felt like a well-rounded puzzle game too. This game has changed alot since I first played it at Dare 2013 and the improvements are clear to see.
Conclusion
We had a fantastic weekend in Dundee: the Observatorium team would like to thank all of our incredible playtesters for trying the game and especially those who took extra time to talk to us about their experience. We'd also love to thank the incredible developers we met there for chatting to us, trying our game or letting us play their own. Lastly, many thanks to the University of Abertay for enabling us to showcase our game for the second year in a row.
Don't forget to check out our new team page on Twitter here and our official website here which we'll be expanding over the next few weeks. Stay tuned to our social channels for some extra special news regarding the future of Observatorium (to be announced over the next few weeks).
Thanks for reading!
Observatorium Team
Clive Lawrence, Jonathan McEnroe and Peter Satera