Groupees greenlight bundle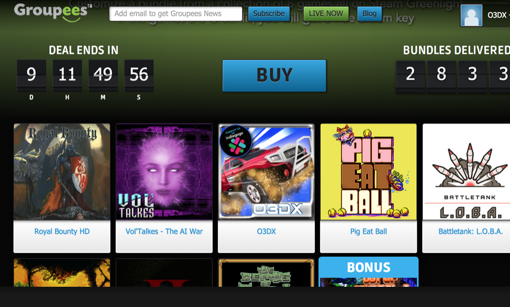 The version of O3DX that is listed includes the late alpha phase and the first 20 levels. All these levels have been approved for release so grab your copy now! As with all Groupees bundles, this is a limited offer that will expire in 10 days. Not only do you get the alpha release with 20 production ready levels at a fraction of the release cost, you also receive a free steam key for the full version once it is greenlit! Did I mention that it's a fraction of the release price? This is your limited opportunity to experience the O3DX adventure long before the public gets their regular price copy. You also have the opportunity to select some of the other 9 titles that are listed in the same bundle. Head over to Groupees and remember to select O3DX from the bundle.
Indiegogo
Also don't forget to support our Indiegogo campaign. We are over 50% funded and need your support for the final run home and maybe a few stretch goals to make O3DX even better than it already is!
Steam Greenlight
Our Steam greenlight campaign is also doing well, with the ratio of yes vs no votes being higher than the average of the top 50 games on greenlight. This means that players vote O3DX into the top 25 games on Greenlight! Truly an honour. However only yes votes are counted and we need more votes in order to be greenlit. If you haven't done so yet, please head over to steam and cast your vote!
For those who don't know O3DX yet: