It's with great honor that Demons with Shotguns has been selected to showcase at the next NYC Games Forum Playtest Night on October 30 at the Microsoft offices!

On October 30th, game developers will have the opportunity to show off their newest games one-on-one to the NYC Games Forum crowd. Once again we're taking over Microsoft to offer more developers the opportunity to get in front of players, demo their games and get feedback. Each game will have its own section of a booth and players will get to try out whatever strikes their fancy.
For further ticket and event information, visit
If you'll be in the area, be sure to come by and check out not only Demons with Shotguns, but all of the games currently in development by local NYC developers. There'll be video, board and virtual reality games; I'm actually excited to try out an Oculus Rift for the first time.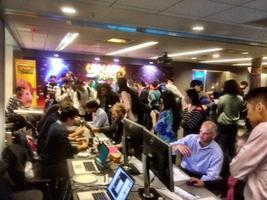 This will be the first time MindShaft Games is showcasing Demons with Shotguns outside of close friends and family, and we think it's time to get a wider spectrum of feedback. It's estimated that 250+ people will be in attendance. This will also be great practice on pitching the game to players and press members.
Hope to see you there!