Client Version 1.4.8
We're very excited to release this new version of the client that has some big changes. The biggest change is probably the most un-noticeable at first. Developers are now able to create and publish animated interactive products which will allow for a great range of new possibilities in the client. If you are a Developer and are interested in creating new Object and Avatar Spot animations head over to the Developer thread for the new editor or check out the Tutorial in the Knowledge Base.
The other great new feature are object labels for Sales Terminals, ATMs, Info Terminals and Gift Boxes. Stepping close enough to one of these objects will have a hovering label above it to better indicate that this object can be interacted with as well as what it's there for. Sales Terminals in Sunset Harbor have special labels to show what the the Sales Terminal contains.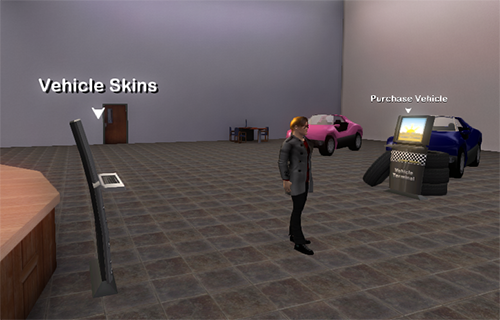 The labels will appear for retail object versions of the Sales Terminals, ATM's and Gift Boxes that are placed in your private and public locations. In a future release we will be allowing for these objects to be renamed so that you can have custom labels for your Sales Terminals and Gift Boxes.
Release Notes
[Updates]
- Updated products available in sales terminals in Sunset Harbor Shops
- Swapped one of the bridges in Sunset Harbor with a different bridge model for better access using a vehicle
- When approaching a Sales Terminal, ATM, Info Terminal or Gift Box a new floating label will appear over the object to better indicate it is something to be interacted with. In the case of Sunset Harbor Sales Terminals will have floating labels relevant to their content.
- Support for loading object animations and avatar spot animations from products created in new editor
[Fixes]
- Fixed issue with updated products still loading from stored local cache instead of properly checking and updating from server
- Removal of some debug code that was wasn't suppose to be in the previous client