Hi there!
My name is Alex Miele, a.k.a Optical Override, I'm a solo game developer based in New Jersey, USA. Next week on May 3rd, my first game, Null Vector, will be launching from Steam Early Access to full release on Windows. Given the incredible journey I've experienced with the game, I wanted to share the history of the game and take you through its development and evolution over the last year and a half.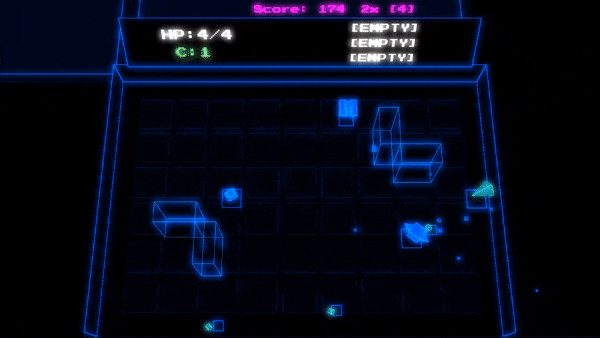 First off, I'd like to give provide some background info about myself and about the game. I previously worked as a programmer in educational games. After doing this for several years, I wanted to create my own games. Although a programmer by trade, I also have a passion for game design. Working as an indie developer allowed me to wear many hats and pursue my fondness for game design, which other roles in a development studio may not have offered. If I had joined a company, I would most likely have been confined to programming. This desire led me to branching out on my own as Optical Override.
As for the game, Null Vector is an arcade shooter that blends rogue-lite elements with retro-style fun. Each run, players must blast their way through six sectors of enemies, mini-bosses, and bullet hell as they fight to complete their one mission: Seek and Destroy the Final Boss! During each run, players collect, gamble for, and swap pickups to upgrade their ships while trying avoid taking damage. For their performance, players are awarded points, which they can increase through point pickups and multipliers dropped during the run. In addition to standard mode, there are several difficulty modifiers to mix things up and also increase the score multiplier, and there is Hell Mode, an incredibly difficult mode that cranks the difficulty up to 11.
Null Vector is my first commercial product and was the result of several months of trial, error, and prototypes. Interestingly, it is vastly different from the initial concept. After trying several different games and approaches over the course of 15 months, I decided to go back to what I enjoy the most - Rogue-lites. This is my favourite genre of single-player games (with Binding of Isaac standing as perhaps my favourite) and I wanted bring my love and appreciation for that genre into my work. So, I set about creating a roguelite. Initially, the game was a "zombie" rogue-lite; players would explore rooms and traverse through a destroyed city while fighting off hordes of zombies.
While I found the game had something, the graphics were taking a substantial amount of time. I certainly enjoy tackling several disciplines in my role as a solo dev, but it's fair to say that graphics are not my strongest suit. When further researching and conceptualising Null Vector, I asked myself "When was there a time where programmers could theoretically make their own art?" This led me to return to some of my favourite childhood games, such as Asteroids and Battlezone. These style of graphics would be far easier for me to create, which led me to design the distinct vector art style of Null Vector.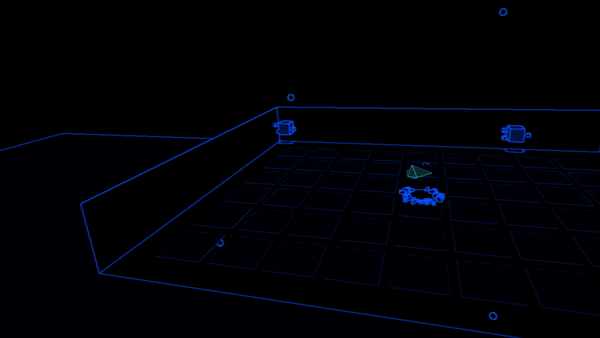 Changing to this 1980's, retro-arcade style of game also allowed me to do a lot more with the weapon system and enemies. Although I love the Binding of Isaac (BoI), one of my gripes with the game is the inability to switch weapons once they have been equipped. In addition, the vast number of variants in BoI requires you to have a reference page open on the side while you play. This definitely appeals to some players, but I find this frustrating personally and wanted to take Null Vector in a different direction. Thus, I incorporated the loadout system, where players can hold up to 3 ship parts at one time. This gives players the flexibility to approach the game in their own way, without being punished for their lack of game knowledge and experience. I'm a big believer in what I like to call, "competitive creativity", where players can mix and match based on their own style and still have it meaningfully and competitively impact the game. Having the freedom to swap and drop weapons and upgrades at will offered a more playful and creative weapon system.
After 2 months of development, I released the game on itch.io. It's fair to say that the game was in a relatively poor state at that point - the angle, game pace, and play was very clunky and quite difficult to wrap your head around. This was mainly due to me initially designing the game as a VR title, hence the strange camera angle and movement. I received some great feedback from some of the players on itch.io and communities I was a part of, which helped with the optimisation and tightening of the gameplay.
Originally, it was very close to BoI, where there were enemies that would encroach upon you, have various effects, and would shoot bullets minimalistically. Honestly, this wasn't quite working for me and I spent several months trying to iterate on this. The real game-changer (no pun intended) came about in an epiphany. One day, I decided to put in roughly ten enemies and had them all firing bullets. It was also
here that I transitioned to a static camera and higher angle, thus departing from the game's VR roots.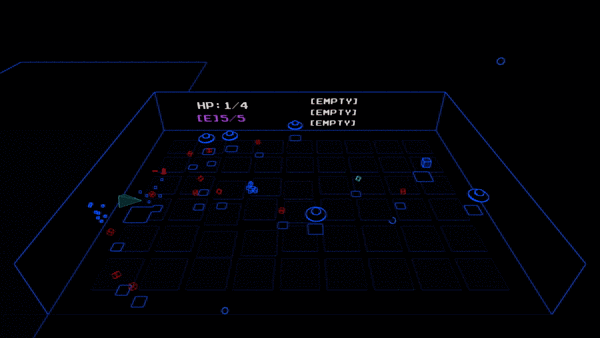 Everything within the game clicked at that point - the tight game controls made dodging bullets more fun and frenetic, vastly improving the game experience. This led to the realisation that Null Vector would be better served as a bullet-hell, arcade shooter, rather than something in the vein of BoI.
This shift to bullet-hell also brought one other substantial change to the game with respect to the movement. Initially, the movement was mimicking Asteroids in that there was a "floaty" feel to navigation. Though the game play and navigation were quite tight and responsive, it still wasn't sitting right with all players. It wasn't until I received feedback from my audio designer, Adam, that I realised that this "floaty" mechanic was holding the game back and opted to do away with it. Instead, players can instantaneously react to the action, creating a more responsive experience that allowed for quick maneuvering around the new barrages of incoming fire.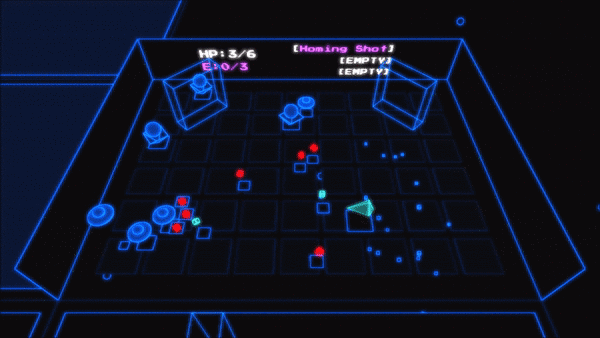 After 8 months of development, 6 of which were spent on itch.io, I felt that Null Vector was in a great state and was finally ready for release on Steam. When the game first released, there were only 5 sectors, 1 game mode, no co-op mode, no difficulty modifiers, as well as less enemies, weapons, and machines. While the core of the game was there, the content was in a very bare-bones state.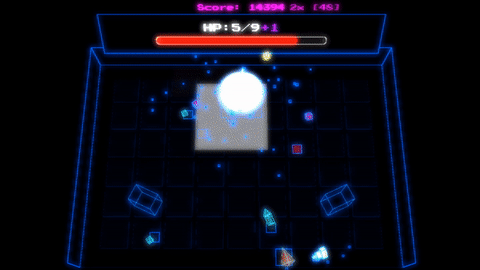 The Final Boss was an important game feature for me to include. I wanted to give players a sense of achievement upon completing their run of Null Vector and having them simply finish after completing the last sector didn't quite give that satisfying feeling I was looking for. The Final Boss not only provides that final unique challenge you must overcome, but also gives greater meaning to your exploration and perseverance in the earlier sectors. It incentivises you to be adventurous with your exploration of each sector, thereby ensuring you are suitably prepared for the final confrontation.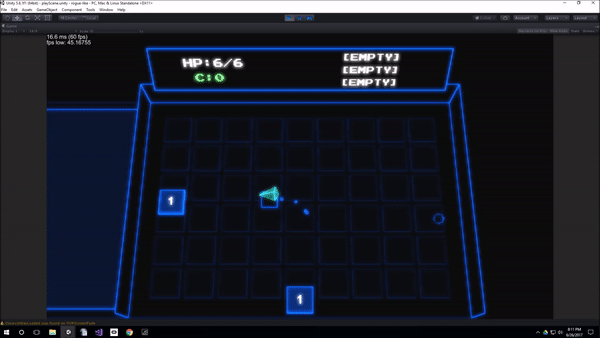 Over the course of Steam Early Access, I continued to refine the game and added more content - not only the additional sector, but new pickups, new machines for gambling and trading, the difficulty modifiers, local co-op, and Hell Mode. I received great feedback from the community during this time, along with very positive feedback.
After 16 months of development, I've opted to transition the game to final release. Much of the content and goals I wished to achieve with the game are in place and I feel like players are getting a great gaming experience at a bargain price. With the final release next week, I'll be adding some more additional content, bug fixes, and polish. Here's a sneak peak of the final game with our announcement trailer:
Really, this journey with Null Vector has been exceptional and I'm both happy and sad to bring it to a close next week. I hope that you'll be able to join me for the game's release and that you enjoy this article sharing some of the game's journey. You can find out more about Null Vector on our Steam Page and Website, and if you have any questions, feel free to comment below or to hit me up on Twitter.
Thank you for your time and I hope you enjoy Null Vector!
Alex Miele, a.k.a Optical Override.