Western European Alliance Starchild
A fantastic feat of engineering ingenuity, the Starchild is the pride of the WEA's aeronautical division, and is capable of singlehandedly fighting off almost any foe. With recent advances in jet engine technology, the WEA has been able to nearly perfect a new take-off system for this aircraft, with minimal runway required in order to allow the plane to reach maximum velocity, thus minimising the targets for enemy artillery strike. The downside of this is that the extreme G-Force extorted on the pilots is near life-threatening, and thus only the most elite and athletic pilots are allowed to even touch the Starchild, let alone fly one. However, if successful, these pilots are given access to some of the most powerful technology in the hands of the WEA, with the Starchild sporting dual machineguns capable of shredding anything in the air, and two independent missile systems that are able to deal severe punishment to anything on the ground. These weapons can be further upgraded in the field, but these weapon-systems are strictly confidential until on the field of battle itself, and then, only at the highest state of emergency. This unique aircraft does come at a price, however, with the lightweight fuselage unable to take much damage and thus failing several high-level safety tests. Nonetheless, the Starchild has been swiftly deployed to far-reaching areas of the battle, in the hope that it's weapons will have run out of ammunition before the fuselage gives way, allowing the pilot to return safely before being turned into cannon fodder.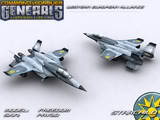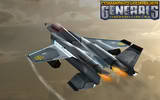 Unit Abilities
Powerful anti ground missiles.
Machine Guns for combatting other aircraft.
Capable of high speed, even in sharp turns.
We also have something a little different for you. I would like to present you all two unique pieces of music from our musician Nagerb :)
Both pieces are for the Western European Alliance faction. Firstly we have Broken Defence.
Secondly, Bloodshed.
We hope you've enjoyed our latest update.
This is the EC team signing off.