Hi everyone!
I wanted to let you all know I've begun work on a lot more of the sound design for Retroninjacyberassassin! I also recently made a game called Lenny for E1M1 Magazine's November Game Jam, depending on reception I might release it here, Gamejolt, and possibly other sites as well! Here's a peak at the gameplay with the new sound effects, and some gameplay of Lenny!:
In addition to the new (and some improved) sound effects I've made adjustments to aim. As many have pointed out the hit detection had some strange issues, it turns out most of these were likely due to ZDoom's default autoaim being too strong for the large number of hitboxes in such close proximity in the player's line of sight. By default "smart" aiming is now disabled, and general autoaim has now been decreased by over 96%; I don't want to completely disable autoaim as it can be somewhat of a necessity when using an XBox controller, which is supported by default and even displayed on the help screen. I need to add that "shift" actually slows your walk/run pacing when using mouse and keyboard to the current help page for keyboard and mouse control layout.
So other than being the same developer, why else is Lenny! relevant to Retroninjacyberassassin?? Well, for players, it really doesn't matter, for but for modders it's a huge deal for a couple of reasons:
+It also runs on the Doom engine
+The included version of Zandronum will automatically detect either as an IWAD: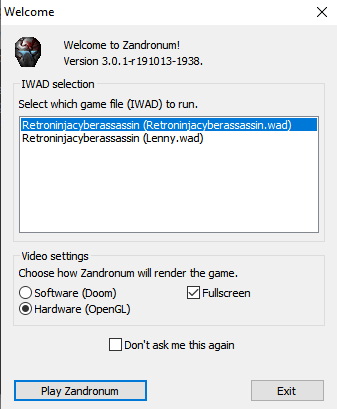 This means modders can now mix both games into megamods! I made an example map and posted it here on IndieDB if anyone wants to check it out!
I've already made minor modifications to the engine resources specifically for Retroninjacyberassassin, and with Lenny! I've decided that I'm going to go ahead and eventually fork off the "Cyberninja Engine" as a platform for standalone games. Zandronum generally has a bit better performance on older machines, and has multiplayer support. I love GZDoom, don't get me wrong, but considering I've planned multiplayer for this game from the getgo, it was the clear choice. Lenny was a spin-off because for the time constraints of a game jam it was much easier to build off of my old code, and some features don't work properly in GZDoom.
If you haven't played Retroninjacyberassassin, now's the time; it's hilarious, it's intense, it's free!