We want to start of thanking everyone that has had the chance to play our game thus far and helped welcome to this amazing community.
Our MMORPG Fantasy Tales Online has been something that our development team ( currently 3 people ) has dreamed about for over 10 years. We have had some ups and downs starting almost 10 years ago in Visual Basic when we were much younger. Over the years we worked on it in our free time while going to school, working etc and this last year have put a strong emphasis on getting to a release early this next year. Since we started we changed languages now using Java and using / adapting the Slick engine to suit our needs. Our goal now is to get to the finish line with a couple months of coordinated free time to bring this dream to life.
We plan on posting some more information, but wanted to give a quick update as to where we stand today and what we are working on at the moment. I want to be clear that we have a good majority of the assets needed to finish up all of which is playable at our website Fantasytalesonline.com where we have our stable and sandbox client. Sandbox is where we are working now on updating and testing things we need, and stable is something that doesn't have all the latest updates pushed to it on a regular basis but instead when we test all the bugs out.
What we are working on :
Currently we are working on ensuring that all the items are created / balanced / skinned for players to use. Currently we have 430 different weapons, 329 armors and 450 different items for the three classes that we have playable in the game Brute, Assassin, and Medic. We use a CSV to store all of the item information such as the sprite image, level, min/max damage, loot category, range, and the damage types (slash, bash, and pierce).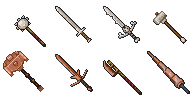 We have been working on making each item something a player would want to get, and after we balance some of the values we will begin working on the modifiers that can be applied to each. We are looking to add something more exciting then just +1 attack as we do not use the basic attributes with our classes ( Strength, Agility etc). Upon completion we will then finish up the armors that have already been similarly started to have attributes to mitigate the damage type (slash, bash, and pierce).
All the tools that we use have been created from the level editor, to the scripting API, to enhancing the Slick Engine to work best for what we need. Over the next couple of weeks we hope to share some of the tools, and more importantly the specific things that we are developing. We are always open for any feedback and because we have such a small team its easy to share with everyone so your voice is heard.
Thanks,
FTO Staff