Sorry AGAIN for missing last weeks update. I simply had no time on my hands to deliver an update. Luckily, you're all getting twice the serving this time around along with goodies you may enjoy.
---
The life of a courier is complicated...
Many of you are still wondering what kind of storytelling is in VHEL - Courier. "Is it classic Sci-Fi?", "Is it fantasy?", "Is there a lot of redundant Anime/RPG jargon?", etc., etc..
The answer to the above questions: "No", "No", and "God, no". Think of the VHEL - Courier as a murder mystery engulfed in it's own science and ideology. When you're talking about a world that's almost literally 100% run by it's peoples' status and notoriety, it's not hard to imagine syndication wars and double crossing to get to the top -- this is on any front in Nor Prime, even on the brothel level.
As far as story events -- and this is just me skimming the surface of a lot of stuff that goes down -- the story arc follows Khana Faust in her life in Nor Prime after a significant revolution in the world; the fall of the Reaver Society (R.E. - Reaver Epoch era) and the years after it (A.R. - After Reaver era).
In the beginning of the game, we find Khana and Nolan in a bit of depressive slump after only realizing that their company, Faust Courier, is in the midst of a notoriety struggle (a struggle to keep respect, so to speak). It's main chieftain, Mace Faust, has all but run out of couriers to help stabilize Faust Courer within the Trade. For him, he wants to insure that his company can last even longer without his couriers dying off left and right. With Khana and Nolan being the last of what he has, he looks into help from a Bhacrio Juun gambler, Don Tokun; a long time friend and business partner of Mace's. Don's noteworthy connections within the Trade help land the company a special donor by the name Ruj Black (a company), a type of illegal arms manufacturer on the outskirts of Ivara near Jin Yhat.
Skipping ahead several moons later, we find the chancellor of West EDOC, Orin Reynoldia (Casie's and Floressia's father), dead from unknown causes. His death soon elevates the level of security in and around southern Ivara to new heights. In the world of Nor Prime, especially in southern Ivara and Darmus, whatever seems accidental, isn't. No sooner afterward, North EDOC's chancellor also falls victim to an unexplained death. Many people within this short period of time begin to talk about a possible extremist group hoping to crippling the remains of the great EDOC syndication. The many heretics on everyone's minds: possible Ban'Tien survivors, biomurrologist from the long since rumored Clandestine faction, heretics from within the Trade, and even former Reavers from the Reaver Society itself.
Yes, both the courier company situation with Khana and the deaths of the chancellors of EDOC are connected, but probably not in the ways you may think at first based upon all I've written right here. You have to remember, this isn't a story the about good guys beating the bad guys. Quite honestly, I feel more like the story is a look at all the bad situations created by the Reaver Society back when Nila Faust, Floressia Reynoldia, and Kender Seth were in charge it before it dipped into obscurity, and how they're still trying to do things their own selfish way -- dead or not.
---
...And in case you wanted to know what the script looked like...
Iberian
"Hello everyone. I hope you all have been fine this good day."
Nolan
"Decent."
Khana
"Can't complain."
Mace
"Aye."
>Iberian takes a second to look at her cast of characters: her couriers, and her co-founder. She has a determined look on her face.
Iberian
"Ahem, so to my understanding, our company is now on the verge of isolation. We're down a courier, we're out of donors, our Darmus branch isn't fairing too well, and we aren't bringing in the same amount of resources we once were. Once we're in full isolation, this company won't be able to sustain itself in the Trade, therefore destroying our own personal values in EDOC and elsewhere where prestige determines our own wealth, etc., etc.. I don't know about you folks, but now is the time to put on your game faces and hope to God we don't fail."
Nolan
"Agreed."
Khana
"With ya."
Mace
"Aye."
Iberian
"I have a few ideas I wish to present, but first, I'd like to know what you all think. [turns to Nolan] Nolan, seeing, as how you're the one who handles most of the business around here, as well as being the only Humari in my company-...[chuckles] ignore my smile, I'm trying not to laugh on the inside...okay...would you mind being the first to give your opinion?"
Nolan
"Heh…sure. We've had a few solid couriers come into Faust Courier since I've been here. I don't need to point out the ones who didn't make it since they're either dead or some other place -- doesn't matter really. Either case, my opinion: we should probably find some new recruits. We ain't gonna get much done with just the four of us, that much I know."
Mace
"Same with gettin' donors, yah?"
Nolan
"Good donors. I've had enough of Ruj Black's crap."
Iberian
"Aye. Do you have anything to add, Khana?"
Khana
"Nope."
Iberian
"Anything informative?"
Khana
"Nope."
Iberian
"Even if it's criticism?"
Khana
"Nope."
Iberian
"Destructive criticism?"
Khana
"Nolan could be a better courier if he didn't always try and take shortcuts all the damn time, yah?"
Nolan
"Who are ya tryin' to start stuff with, minga?!"
Iberian
" - Alright, alright. At least we're all in the right spirit for the job. As far as my proposal goes, I'd like us to pursue more couriers, like Nolan mentioned before. We'll move on to new donors once we have a team ready."
Mace
"No other plan?"
Iberian
"Not with our notoriety. There's too much unwavering trust within our clients to make any bold moves we can't support."
Mace
"Humph…"
Iberian
"What? The problem is solved. We find new couriers, then we move on."
Mace
"Don's boy dies and the next thing ya wanna do is find a lad to replace 'em? See less point in gettin' fresh meat when we could just go for the prize right now."
Iberian
"As in…?"
Mace
" - Let's find a brand new donor and fix up all the confusion behind recruits and whatnot later."
Khana
"That's the Ban'Tien way of thinkin', if I didn't know any better."
Iberian
"It's also the ignorant way of doing things."
---
Everything else going on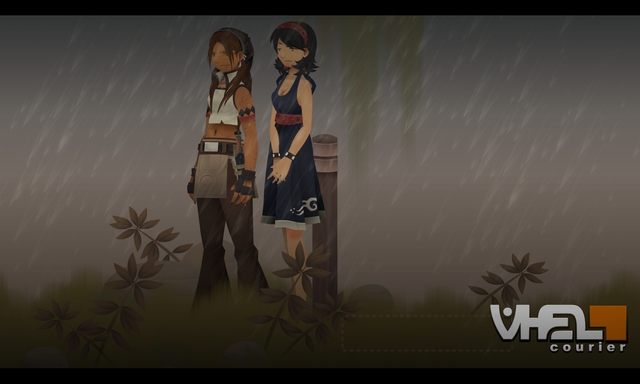 (Me experimenting with certain environmental objects...like grass, lol.)
Just read the following:
Tiji finally got his hands on the full Master Design Document to VHEL. Yes, this is actually important to mention because out of every other person alive, he's the only one with the original copy outside of myself. That's several hundred pages of coding you'll have to go through, buddy. =D
Though art has been coming out slower than normal, several new characters are currently being finished up: Flo Kor'Normah, Don Tokun, and a few brothel whores.......yes, brothel whores
If I'm not mistaken, Tiji is establishing all the in-game variables (system intergers, arrays, magic numbers -- whatever you want to call them). This isn't effecting some of the other work already finished up like the animation system or our loading systems...which, by the way, is pretty memory friendly now. =D
The Master Story Script is 2 weeks away from being done (if I'm reviewing it right). When it is, I'll print the whole thing up, take pictures of it, and act like I've just created the Bible. If a tear rolls down my cheek, I'll make sure to take a picture of that, too!
Voice acting sessions have been on the way for the past 2 months now and on November 20th, the roles for Khana, Casie, Nolan, Iberian, Mace, and Page (maybe), will be closed. If you're interested in doing voice over work, by all means, be my guess....but do it soon, because auditions won't be going on forever. =/
---
And that's that!
Ciao, everybody!