The Game
Noomix is a 3rd person puzzle shooter with a strong focus on individual gameplay for Windows, Mac, Linux and Browser. Noomix is developed with Unity3d.
The game is currently Alpha, we are testing the multiplayer functionality and tweak the parameters in order to increase the overall multiplayer experience.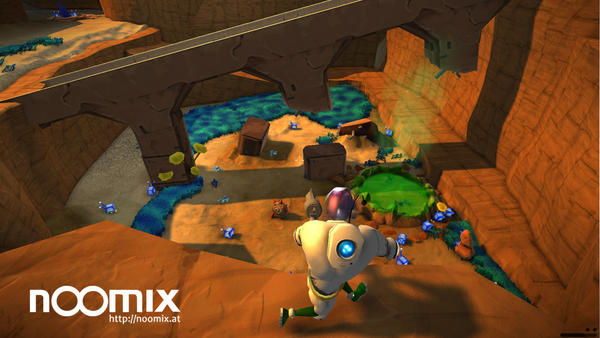 Story
Gordo the apetronaut is crash-landed on the fascinating planet of the Noomies. His spacesuit allows him to merge with those little witty creatures and use their powerful abilities. Gordo has to use those powers wisely in order to leave for home again!
The Noomies
There are four different types of "Noomies" which stands for different abilities:
Red - Strength
Green - Range
Blue - Speed
Yellow - Splash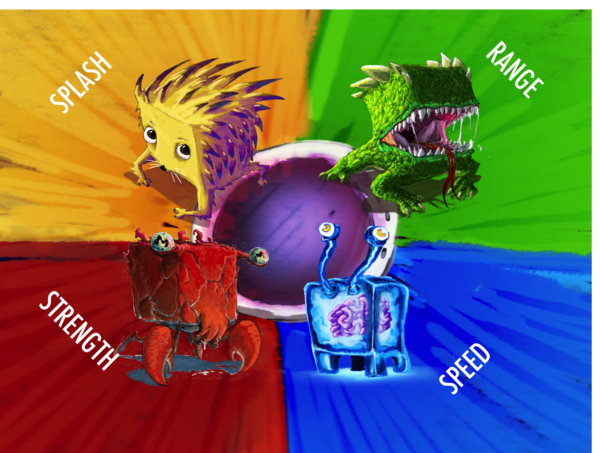 Gordo can collect the Noomies and merge them to different slots of his spacesuit.
When you merge a blue Noomie (speed) for example with your gun-slot, you get a machinegun. The green one would be a sniper rifle.
If you merge the green Noomie (range) with your shoe-slot, you can jump higher. There is also a melee-slot, which has counter effects. The blue Noomie would be a kind of TASER which takes the opponents speed bonus. Do you get the idea?
With these mechanics we want to build challenging puzzles in the singleplayer mode and let the players "choose their class" dynamically during a multiplayer match.
Progress
What is done so far?
Character Movement
3rd Person camera
Gun-Slot works with every Noomie
Noomies Basic AI
Enemy Basic AI
Shoes are working with every Noomie
Basic Multiplayer with 2 Modes (Deathmatch, Teamdeathmatch)
Ugly but functional Menu (Host Game, Join Game, Login...)
Singleplayer Gameplay Logic
What's next?

Singleplayer levels
Multiplayer Maps
Story elements
Melee slot
What's next next?

Matchmaking
Multiplayer Bots
Contact
Please feel free to check out our website at www.noomix.at for more infos and artworks(!) or follow us on @noomix_game
And we would be pleased if you like Noomix on Facebook!