Wearing my Marketing Hat
Being a solo developer is a lot of work, one of the main reasons of that is that once in a while I have to stop the hard development of the game and focus in promoting it. During the last two weeks, I've been working in my new Official Website: Nomad-fleet.com . The site is pretty minimalistic, in my opinion my IndieDB page seems more useful for its features like tracking and its bigger audience but not having an official website looks too amateur. That leads me to my other main promotional material, the pre-alpha trailer (I could talk about it but there's no fun in that so please watch it and if you want leave me some feedback):
Steam Greenlight
Now, having a website and a trailer is nice but they exist for two purposes in my opinion: sending them to the press and using them for Greenlight. At this moment, the campaign is going pretty good, you can check it here: Steamcommunity.com
I hope to keep the page reasonably active in order to keep some of the initial momentum, for that I've been contacting the press with the hopes of getting my project featured in as many sites as posible. Time will tell if this succeeds or not, I know that Greenlight can seem a bit hostile at first and the press a bit too busy to give you attention but I'm confident that my project has what it takes to get attention.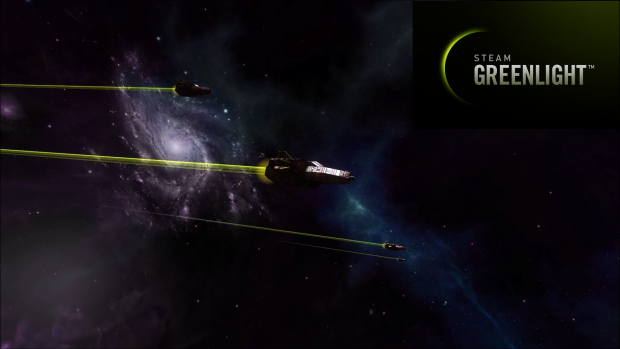 But what about the development?
Well, now I'm mostly working in the feedback I've received so far. There seems to be some common complaints about the controls and I can assure you that I'm working hard on them. There's also other fixes based on feedback that I'm working on (example: it was hard to see some icons in the tactical view if the environment is too colorful so now the skybox will be in grayscale only in the tactical view to help visibility).
I'm also working in new scenarios, I added corvettes to the main enemy (the "Xenos" faction) and soon I'll have to wear a new hat: writer. I expect to start adding lore to the game in the form of logs and codex entries so I need to put the ideas I have in paper. Fun.
That's it for the moment, I hope it sounds interesting, if that's the case, please vote for my project in Steam Greenlight: Steamcommunity.com
Regards and thanks for your time,
Jorge Pacheco